Alexander Luxury Apartments
Project Details
Location

Edgewater, NJ

Architect

Vijay Kale

Contractor

Waterside Construction, LLC

General

99,597 sq. ft. of SlenderWall panels with R-21 closed-cell foam insulation

Quote

"We went to Virginia to study the panel system for a project in another state, and we were impressed by its capabilities. So we decided to use the system again for the Alexander." Fred Daibes, owner of Daibes Enterprises

Awards

NPCA Creative Use of Precast, Above Ground Category, First Place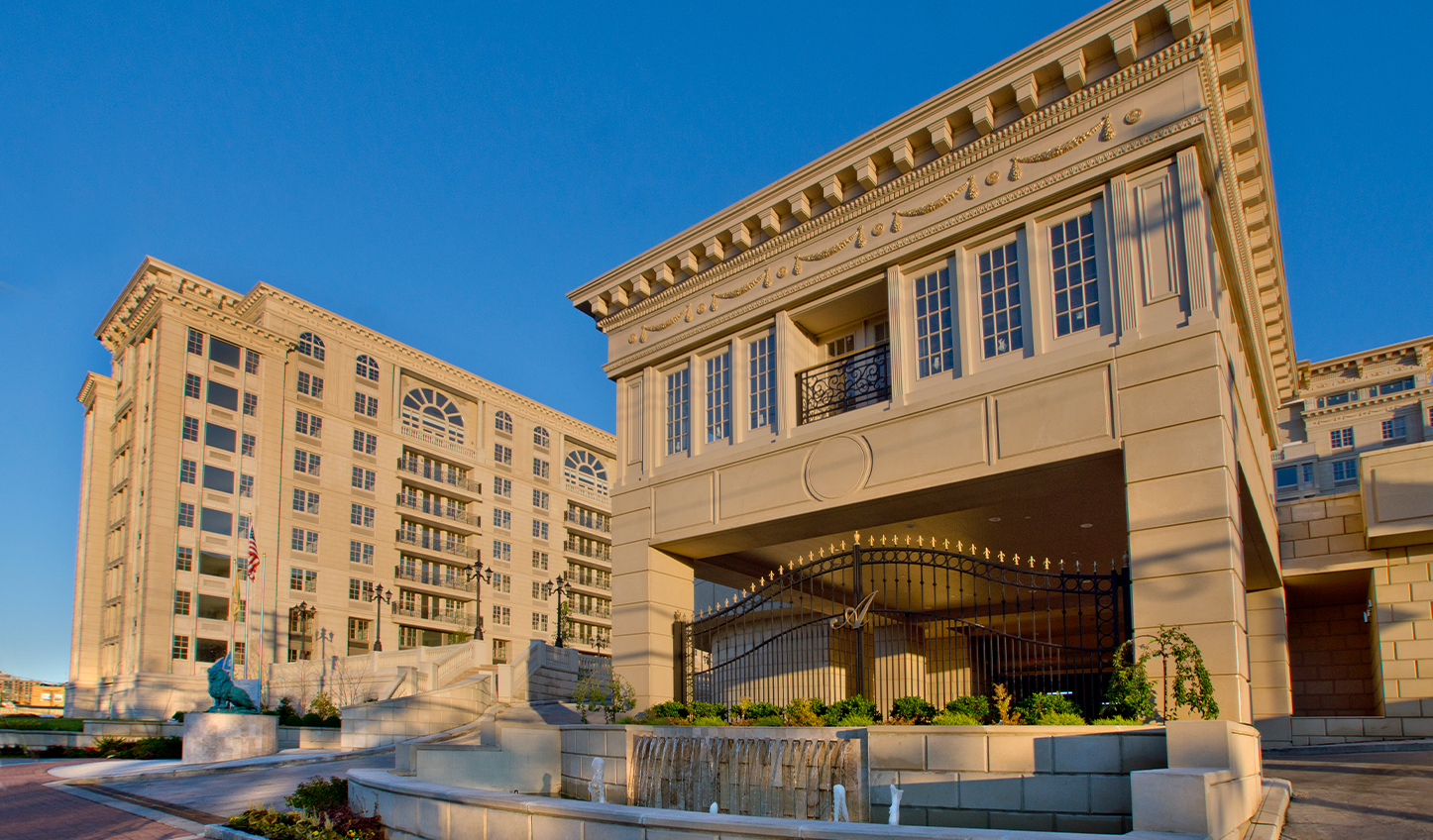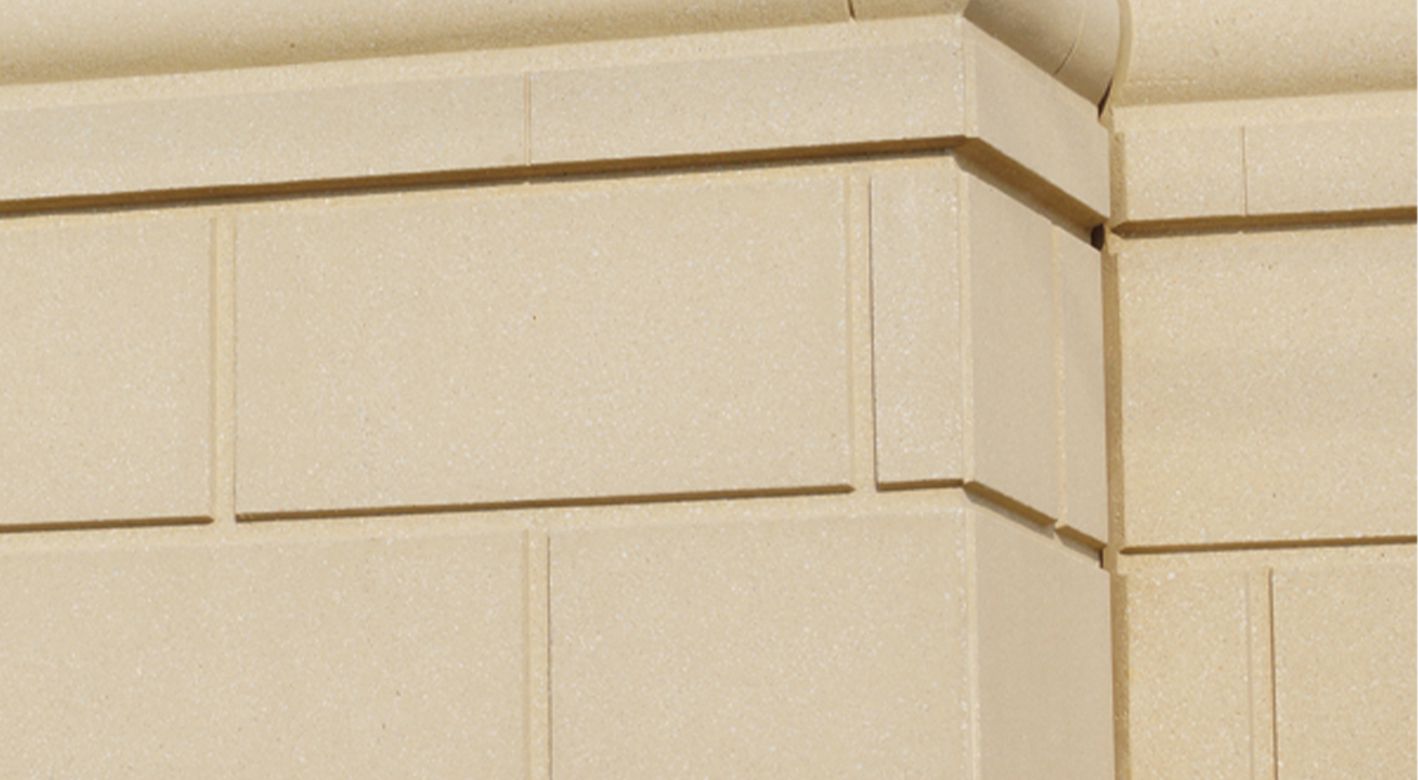 A classic enclave, graced by innovative SlenderWall precast panels, opens to a clear view of New York's skyline
Seeking a sophisticated design statement for a high-profile luxury apartment project, the developers looked to Smith-Midland's SlenderWall to create a durable yet lightweight and highly insulating cladding. Even the building's name, The Alexander, suggests classic Park Avenue style. The SlenderWall architectural panels made the elegant style sought by the developers possible.
With nearly 300 apartments, many with drop-dead views of the Hudson River and Manhattan skyline, The Alexander – a new and much-coveted apartment building in Edgewater, NJ – makes a great first impression. Yet it has much to offer that is unseen to most visitors.
Designed as an open pentagon, the building is larger than it looks. It projects a classic elegance that its developer, Fred Daibes, conceived while touring in European cities like Monte Carlo and Paris. It also has more amenities than the typical high-end multi-family residence, with on-site hotel service, indoor and outdoor pools with private cabanas, a cutting-edge fitness center, yoga and meditation spaces, and an all-inclusive spa. Plus, residents can enjoy billiards in the game room, a Hollywood-style screening room, multiple business centers, and a general-purpose room.
There's even more behind the scenes, says Daibes, whose firm designed the project in-house to mimic classic limestone architecture. Within the bone-white walls enclosing these luxury spaces, is in fact, the latest in hybrid precast technology: SlenderWall, a highly insulating yet lightweight precast concrete architectural panel with a light-gauge metal frame backup and a spray-applied insulating and barrier layer.
Led by the company's house architect, the respected Vijay Kale, the Daibes Enterprises team developed a schematic design concept that recalls Manhattan's toney Park Avenue post-war architecture, with the classic detailing associated with the 1940s and 1950s. Inside, Kale laid out big, formal living spaces, while the outside the concept was a buff-colored stone look. An acid-etched finish and historical details such as cornices, reveals, and bullnoses completed the elegant, timeless exterior concept that Daibes envisaged.
As is often the case for his small but successful development company, Daibes saw the unique cladding treatment as a way to differentiate the visual brand of The Alexander.
"Everybody's building modern styles with floor-to-ceiling glass, but our target market shares my tastes," Daibes explains. "I've always been attracted to the older styles of buildings in classic European cities and on Park Avenues. The modern buildings just seem to come and go."
According to Smith-Midland, which produces and licenses the SlenderWall system, this was the first precast building for Daibes Enterprises. The developer had used cast stone, brick and stone masonry for many of its buildings, yet it found the SlenderWall panels attractive for several reasons. Chief among those was the proven durability and robustness of system, ensuring a wise investment for the team.
There were other reasons beyond the resiliency and attractive finish achieved with SlenderWall. First, Daibes Enterprises chose to have the precast panels insulated with closed-cell foam insulation at the Smith-Midland production facility in Midland, VA. This value-added option offers a savings in both time and labor. Second, SlenderWall's lightweight design – about 30 lbs. per square foot – helped reduce foundation and structure costs, as well as the charges for shipping and installation. Third, a proprietary 360-degree concrete-to-stud connection isolates the exterior precast concrete cladding from the structural stresses associated with wind loading, steel frame movement, expansion and contraction and seismic shock. Fourth, the light-gauge steel framing provides an immediate stud assembly for interior walls. With one system, the exterior and interior are provided in a slender, efficient enclosure system. Fifth, the combination of architectural precast concrete, insulated Nelson® anchors, welded-wire fabric and heavy-gauge stainless or galvanized steel studs offered Kale and Daibes unlimited design freedom.
In all, Smith-Midland delivered 1,024 panels of either SlenderWall or traditional precast, covering just under 99,600 square feet of façade area. The resulting 290-unit, nine-story structure has been the subject of much media coverage and realtor buzz, a fact that pleases Daibes. He says that the property – which is named after his son – is being built as a tribute to his father, making it as much a personal journey as an architectural design challenge.
It will be a long-lasting tribute too, based on the successful track record of the exterior system. SlenderWall is durable, hurricane-proof and opaque, keeping out the sun and the elements. Its fine, architectural surface is valued by architects, and yet the panels are favored by engineers for their light weight compared with traditional, heavier precast. What's more, it's a green system, says Kale, with a lower carbon footprint than alternatives.
Compared with lighter systems such as EIFS, or less adaptable systems such as cast masonry, SlenderWall offers a substantial yet lightweight system replete with insulation, vapor/moisture barriers and interior wall framing – all in a single product. In ways seen and unseen, the hybrid precast and light-gauge steel cladding system benefits a savvy developer like Daibes.
On the production end, SlenderWall benefits the building designers and construction team because it is a consistent, controlled system with predictable installed performance. Precast sections were delivered with pre-applied, closed-cell foam insulation that also acts as a vapor barrier, which contributes to the air- and water-tightness of the structure. That's on top of 3.5 inches of foam insulation, delivering a consistent R-21 behind each installed SlenderWall panel.
Contractors have remarked on the lightweight panels, which can be hoisted with smaller cranes and equipment that fit more easily on a constrained site like The Alexander's. Traditional precast elements weigh in at a hefty 88 lbs. per square foot, while SlenderWall is only about 30 lbs. per square foot. The lighter panels take less time to erect. Plus, they have the integrated steel-stud framing mounted outboard of the floor edge. After erection, the panels can receive drywall and other interior finishes immediately – no furring or additional walls studs required, which saves perimeter floor space.
While the casual observer may think The Alexander is all about its impressive visual brand, the Daibes team knows better: It's about cutting-edge construction techniques too.