Precast Concrete: The Proven Sound Barrier Material for Reducing Unwanted Noise
Smith-Midland sound walls solve noise problems, look impressive and last for decades with no maintenance.
Sound wall solutions using Smith-Midland's proprietary sound absorptive SoftSound and noise reflective Sierra Wall technologies combine the unmatched strength and durability of precast concrete with a variety of finishes and features. And, our precast concrete sound wall panel-and-post options are effective, economical and serve a wide variety of transportation, residential and commercial applications.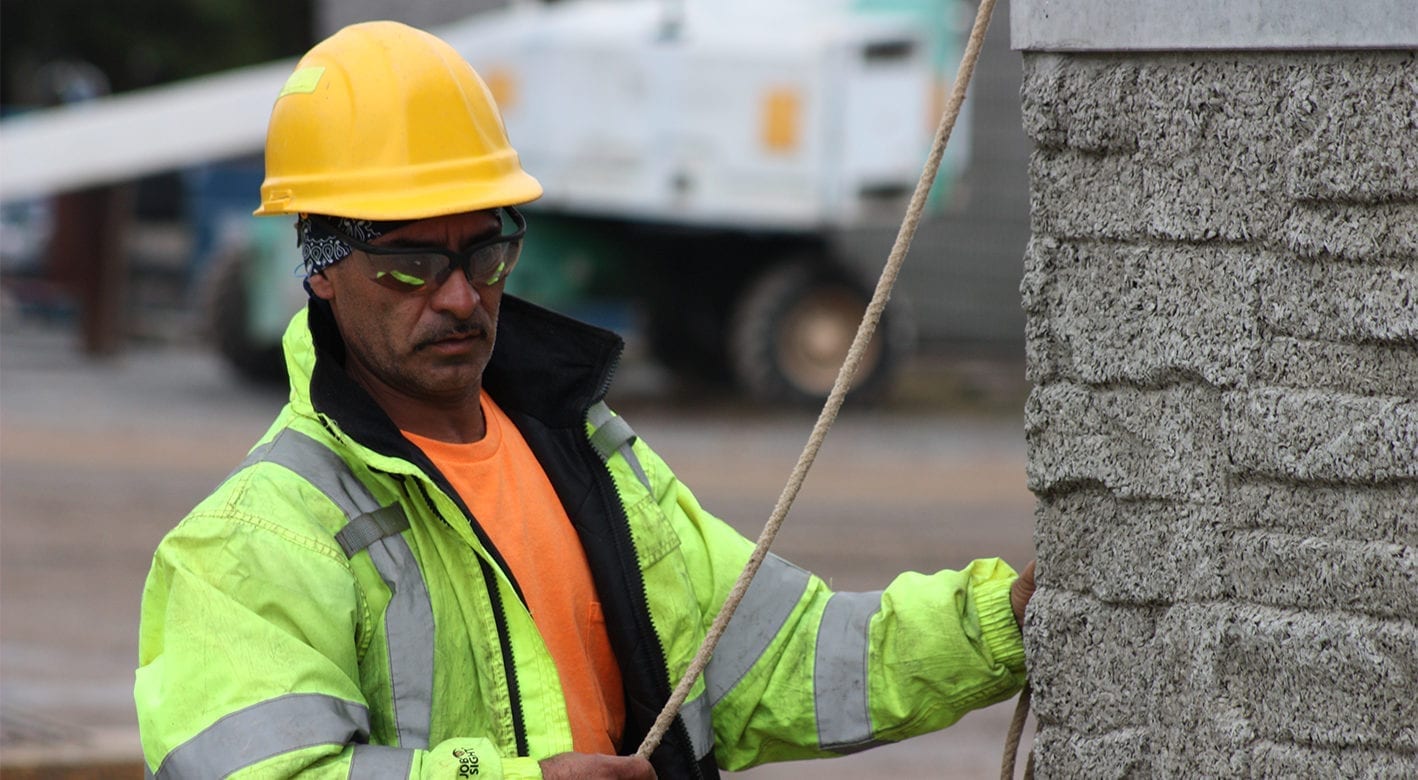 Precast Concrete Sound Wall Applications
Sound Barrier
Security
Privacy
Sight Barrier
Retaining
Engineered to keep the environment quiet and secure, Smith-Midland Precast Concrete Sound Walls perform better than wood, steel, plastic or masonry.
With over 40 years in the field, our sound wall panels have been fully tested and approved.
Proven technology means it's easy to get approval for our systems
Unmatched strength and durability
Perfectly suited for all applications
Works with multiple post options, precast concrete or metal
Wide variety of finishes, colors and designs
Economical with low installation costs
Maintenance free – resistant to vandalism and weather events
Moveable if need arises
What Makes Our Sound Barriers So Popular?
The durability, maintenance, and low installation costs of precast concrete make our sound wall an economical choice compared to other materials.
Design/Build Turnkey Services: We offer manufacturing or complete turnkey full-service to create a wall system specific to your needs.
Look and Feel: You are limited only by your imagination when it comes to design choices. That's one of that factors that sets precast concrete apart. We'll use different form shapes, pigments, stains, aggregates and other design options to create the perfect wall to match your technical needs and aesthetics.
Manufacturing: Tongued panel sections are cast in our plant, 4-12 inches thick, with steel reinforcement and integrated or separate grooved precast posts. Post type, height and length dimensions are specific to your project needs.
Sound Wall Installation: Appropriate foundation piers are completed prior to delivery of the sound wall. As each panel and post is off-loaded, it is slipped into the adjacent section with a secure tongue and groove connection. Installation is completed by welding or bolting the steel mounting plates to the base of the posts.
Sound Absorptive or Reflective Finishes: Our panels can be designed with the same finish on each side or completely different choices. Discuss your specification, performance and aesthetic needs with our sales and engineering teams.
Smith-Midland SoftSound Noise Wall Material: The Leading Edge of Sound Absorptive Technology
Our proprietary porous lightweight aggregate-based cementitious material gives SoftSound the edge over competitors in durability and performance.
Superior sound absorption. Test reports available upon request.
Resists rot, decay, mildew, mold, insect nesting, vermin, termites and combustion
Environmentally friendly and 100% recyclable
Durable under all weather conditions
Can be stained or cast using integral pigment to provide a wide range of colors and form liner finishes
Suitable for other sound applications
Based on European technology with a 50-year history of success
Extensively tested for performance and longevity. Meets or exceeds all state performance requirements.
Strict quality control standards ensure consistency and longevity of product
SoftSound absorptive precast concrete walls are not just effective, they also offer the absorptive wall industry's best lifecycle cost value.
Highway Sound Barriers
Widely recognized and accepted as an effective soundproof wall system, our standard highway barriers measure 12′ from center to center and can be manufactured to reach heights exceeding 20′. Custom configurations are available. Panels can be installed with our prestressed or heavily reinforced precast concrete posts or with a metal post of your choice.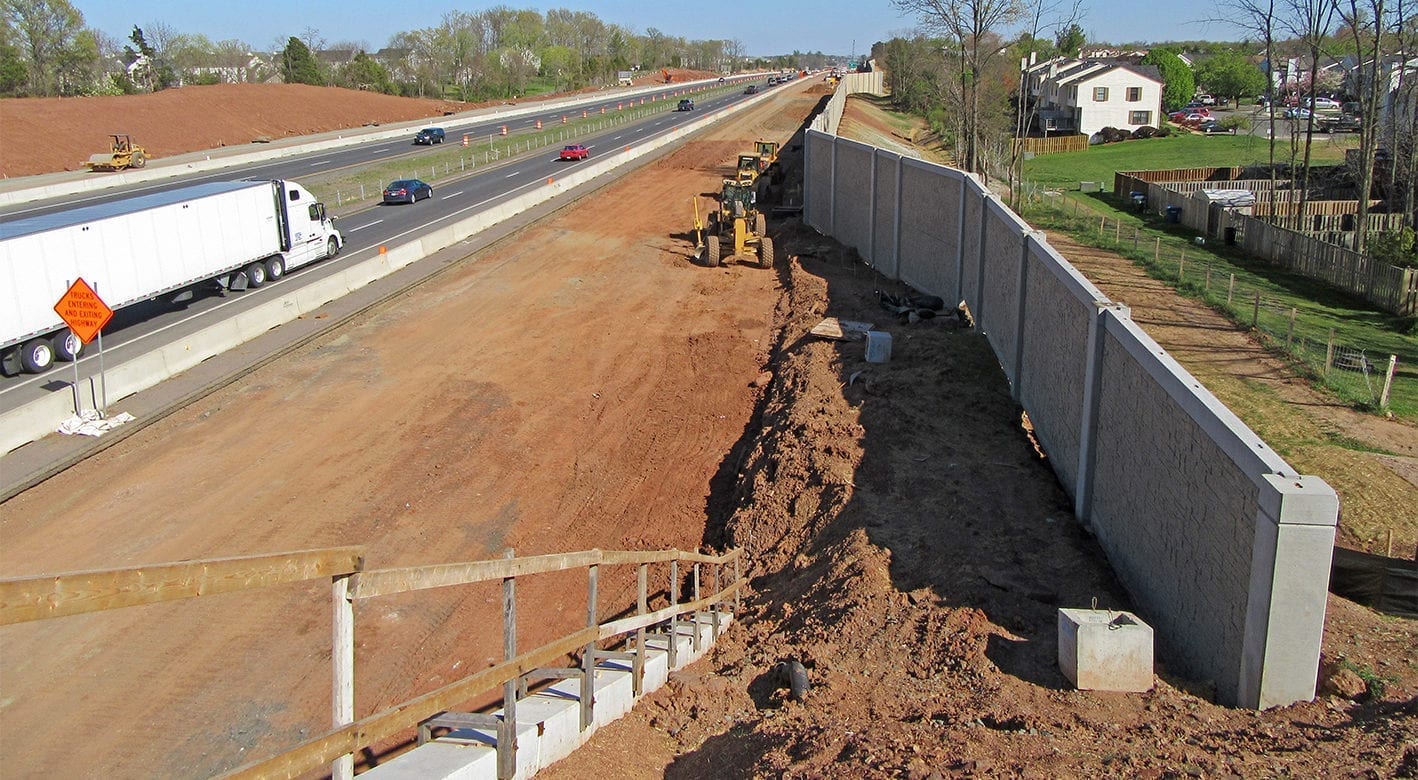 Commercial Grade Residential Noise Barrier Systems
With a myriad of available finishes, Smith-Midland sound panels are easily adapted to blend with local architectural designs. Used for commercial development and roadway expansion projects, these commercial grade sound walls provide a sight barrier, protect against intruders and block wind and sound in elegant beauty.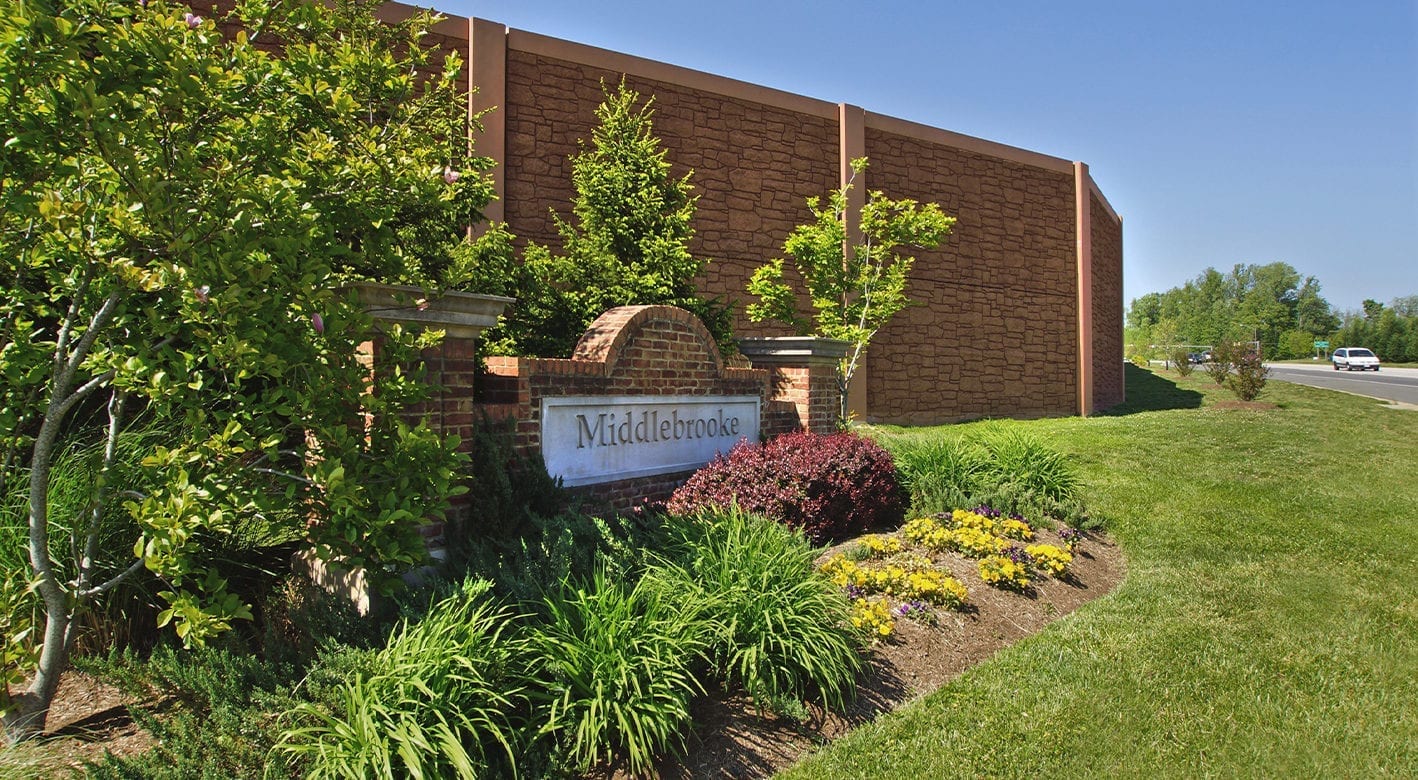 Electrical Substation Sound Walls
Sound reduction and high security are at the top of the list when it comes to screening a power grid substation from the neighboring community. Our various sound wall options handle those critical jobs and look great too. Panels can be designed from a wide palette of colors and patterns to easily meet the desires of residential neighbors or municipal requirements.
Read about the Dominion NIVO substation project
Utility sound wall presentation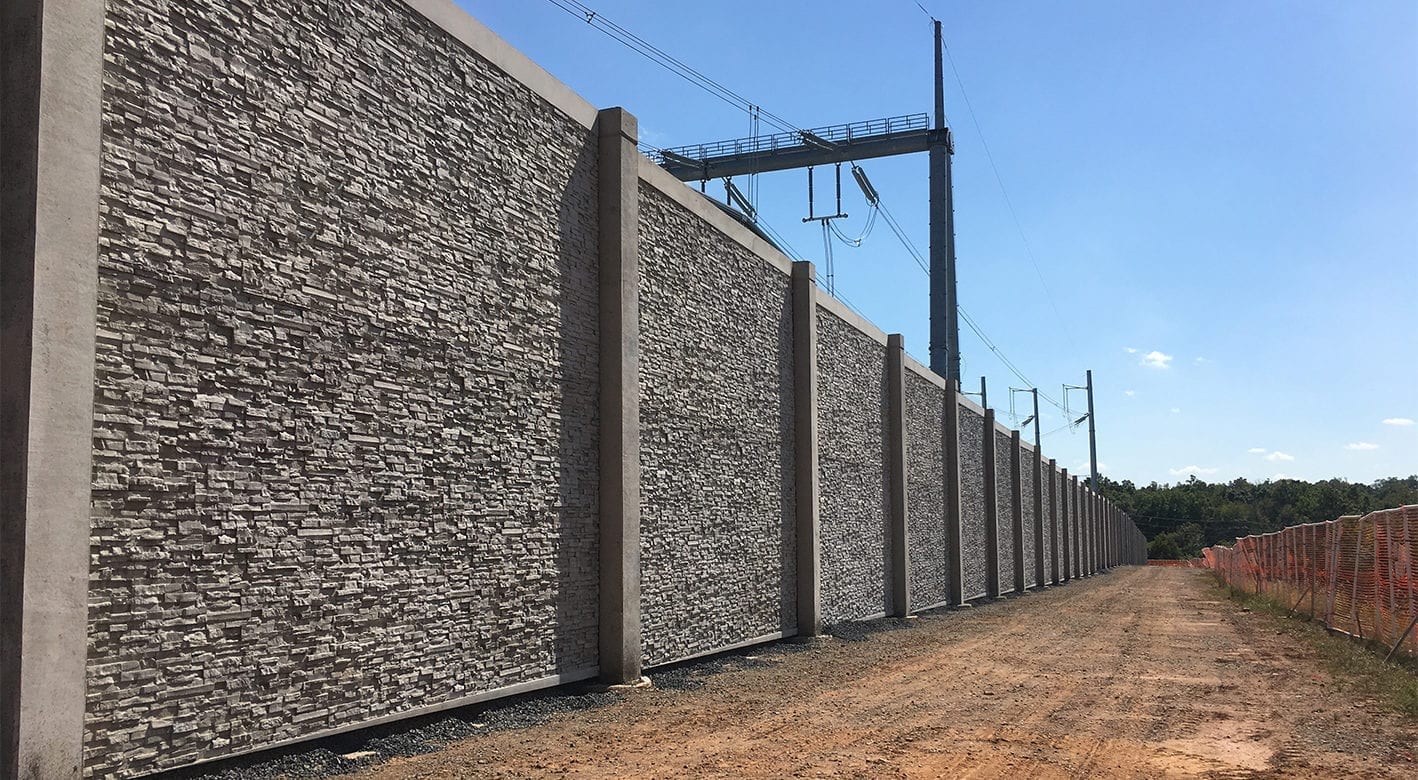 Industrial Soundproof Barriers
Precast concrete sound walls simultaneously screen industrial operations from nearby landowners, provide a noise barrier and protect businesses from intruders. Complex zoning problems created by the need for industries and homeowners to coexist in harmony, are tastefully resolved for the benefit of all.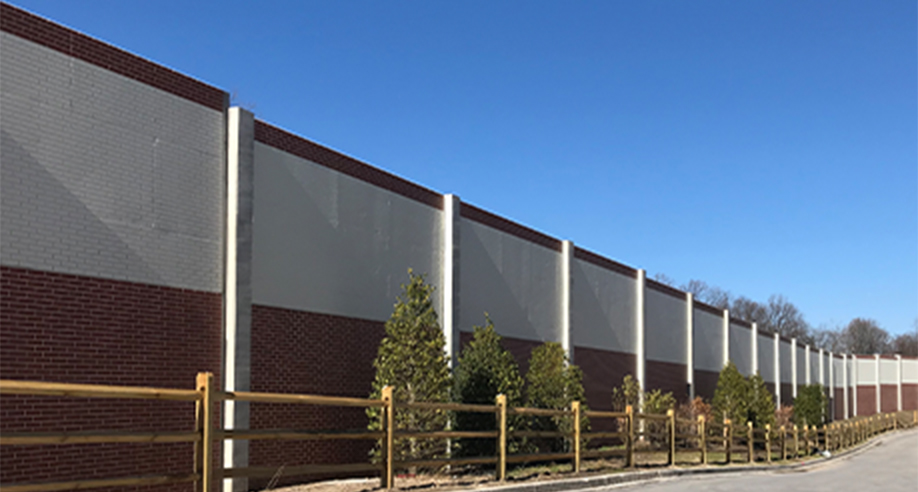 Commercial Site Concrete Sound Walls
Screens and protects commercial property, allowing shopping centers and institutions to be conveniently and compatibly located near residential areas.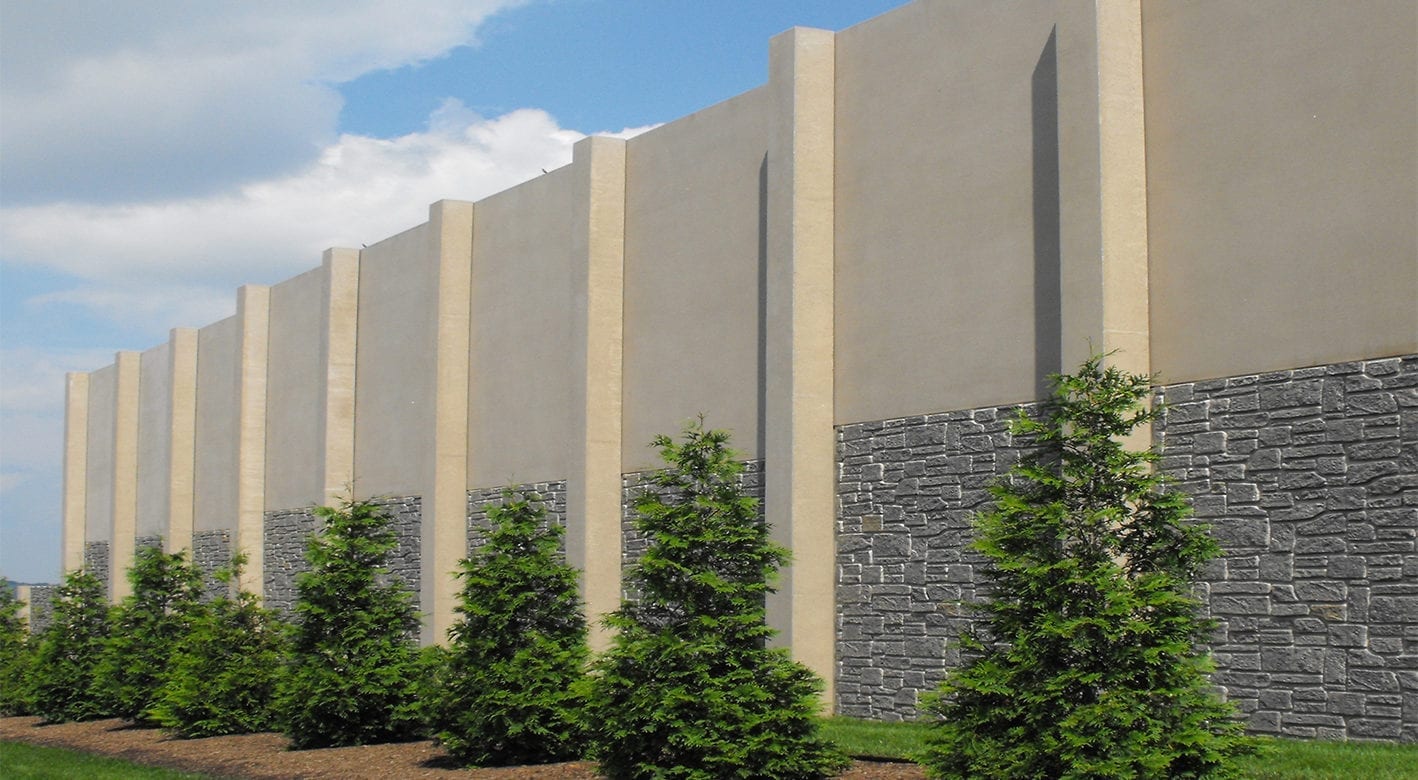 "I would like to take this opportunity to thank you and your employees for a job well done. The sound wall your company installed for us on the Rt. 495 exit ramp to Rt. 66 not only looks good, it has greatly decreased the sound transmission from the roadway to our adjacent community."

Josh S. Zeigler, General Manager
The Lawrence Doll Company
"We are taking the time to write you a letter of accommodation for the fine work, scheduling and delivery of your precast concrete panels. It is not often that we have a supplier-fabricator that produces a product without some problems. In the case of Smith-Midland, the Sycamore at Van Dorn project was completed on schedule without one single punch list item to correct. The quality and finish of your precast panels is exceptional."

Jackson P. Wilson, EVP
Westlind Construction Co., Inc.