AGC honors Smith-Midland for its work on the Latitude Mixed-Use Project
October 11, 2018 | Architectural Products
On October 9th, The Associated General Contractors Association (AGC) awarded Smith-Midland top-honors in their category for the Latitude Mixed Use project at a ceremony in The International Spy Museum, Washington, DC.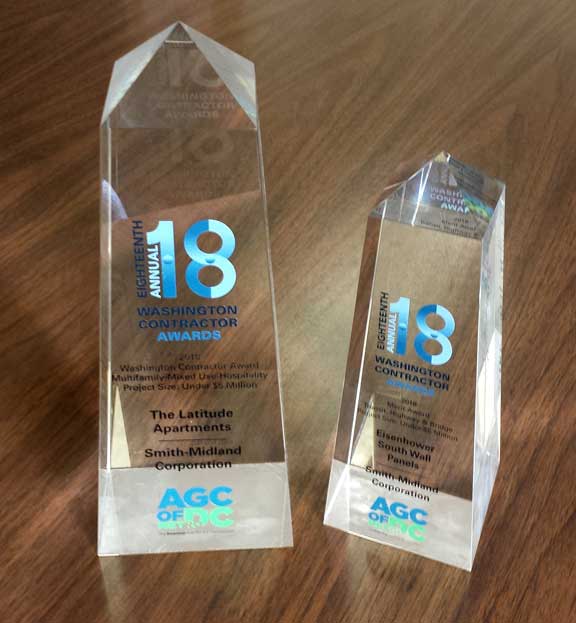 Additionally a Merit Award for Transit, Highway & Bridge was given for Smith-Midland's work on the Eisenhower Avenue sound wall project in Alexandria, VA.
The two awarded projects are indicative of the diversity, ingenuity and quality achieved by Smith-Midland for their clients.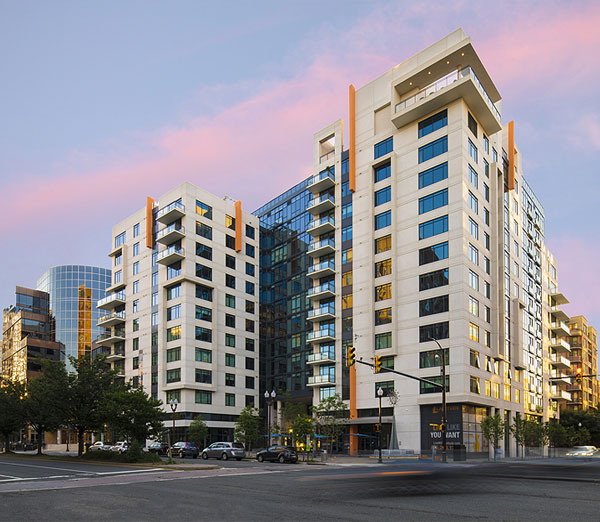 Latitude Architectural Precast Project – Arlington, VA – Read More about this project

The Latitude Apartments is a 12-story, mixed-use, pedestrian-friendly luxury apartment community situated directly across from the Virginia Square Metro in Arlington, Virginia.
This Davis Carter Scott design built for Greystar Apartment Communities included 70,000 sq. ft. of acid-wash finished architectural precast concrete panels (746) manufactured and erected by Smith Midland Corporation for builder CBG Building Company.
The Latitude has also earned LEED® Gold certification and a coveted Grand Aurora Award for Best Mixed-Use Project 2018, from the Southeast Building Conference.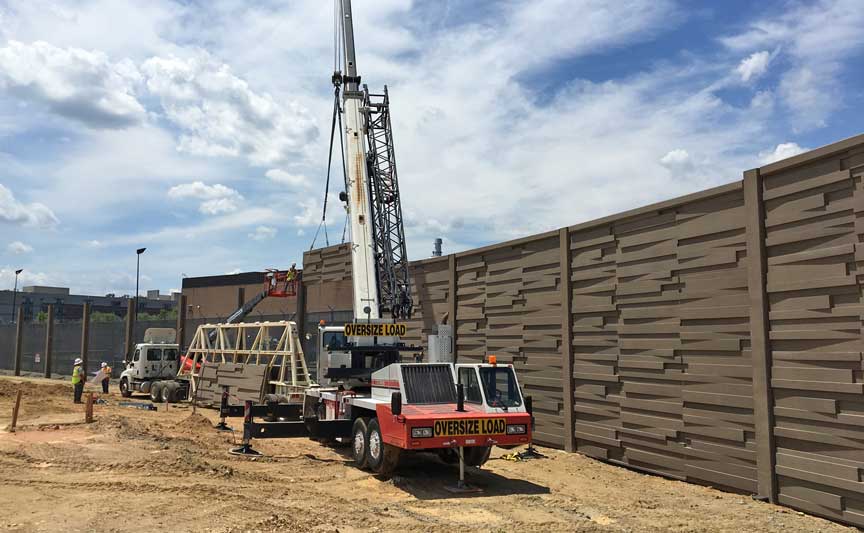 Eisenhower Sound Wall Project – Alexandria, VA – Read More about this project
In May 2018, Smith-Midland worked to install 10,000 sq. ft. of reflective precast noise wall manufactured using geometric form liners, creating a unique and aesthetically pleasing solution.
In coordination with GeoStructures and HITT Contracting, Smith-Midland provided the design, fabrication, and installation of the sound wall at the perimeter of an upscale town home living complex located at 2900 Eisenhower Avenue.
"It's the dedication of our entire Smith-Midland team that really makes the difference," said Ashley Smith, CEO. "Getting recognized for all that hard-work means a lot to us."
Link to article on Construction Equipment Guide
Sales Inquiries:
(540) 439-3266
Request for Quote