Alongside One Of The Nation's Popular Shopping Hubs, New Mixed-Use Project Is Both Durable And Attractive Thanks To More Than 1,600 Precast Panels
May 2, 2014 | Associate / Plant News
TYSONS CORNER CENTER PROJECT FEATURES OVER A THOUSAND PRECAST PANELS CONSTRUCTED BY SMITH-MIDLAND CORPORATION.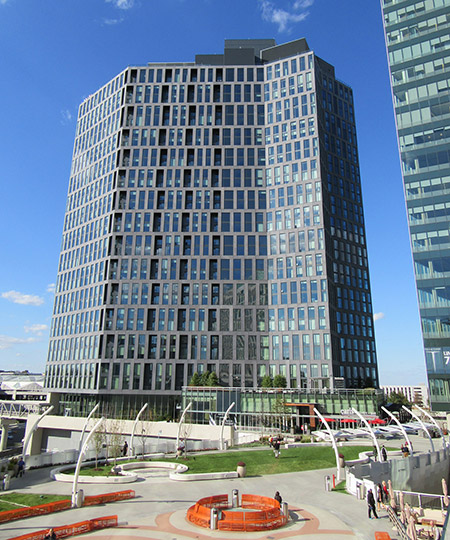 MIDLAND, Va. – (OTCQB: SMID) A beautiful new mixed-use project that's coming out of the ground in Tysons Corner, Va., features more than 110,000 square feet of Smith-Midland architectural precast panels. The more than 1,600 two-toned, gray and buff medium acid-washed panels not only contribute to the project's durability, but they also make the 31-story building visually appealing.
Owned by top retail property owner and developer Macerich, Tysons Corner Center project includes a 429,000-square-foot multi-unit apartment building, a rooftop pool, amenity areas, retail space, a pedestrian bridge (connecting to the Tysons Corner WMATA station), and four levels of below-grade parking.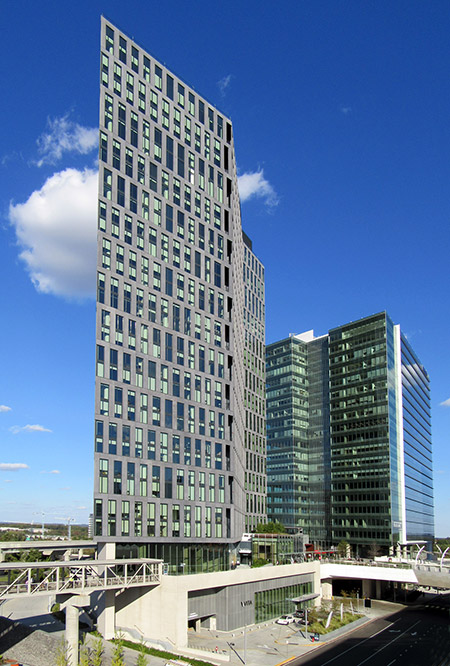 Situated alongside one of the country's most famed and dynamic centers, the project will offer the very best of city life: sweeping high-rise views, close proximity to a dedicated metro spot, and an unparalleled retail mix. Smith-Midland designed and manufactured the precast panels for the mixed-use project, which – when completed this year – will be a beautiful aAlongside One Of The Nation's Popular Shopping Hubs, New Mixed-Use Project Is Both Durable And Attractive Thanks To More Than 1,600 Precast Panels ddition to the Tysons Corner skyline.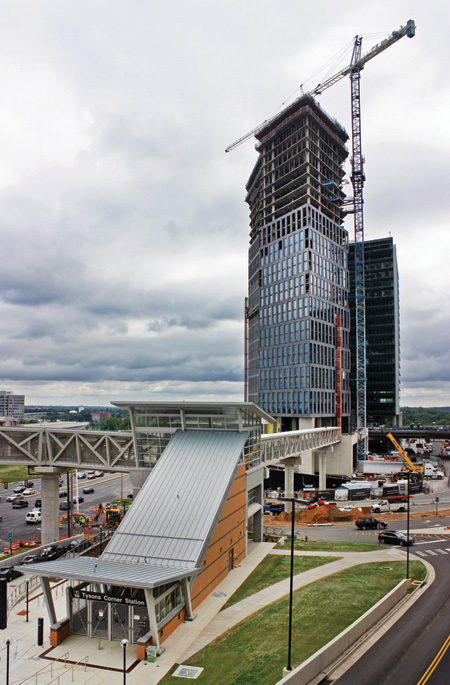 Matthew Smith, Vice President of Sales and Marketing at Smith-Midland, said that about 58 percent of the panels have been installed for the project, which is being completed within a tight timeframe and despite the extremely harsh winter weather conditions. "We've put a lot of resources and manpower into motion in order to meet the owner's schedule," added Steve Demas, Senior Project Manager. "We're right on target."

An innovative Northern Virginia destination, Tysons Corner Center will open its first phase this year. The building is designed to achieve LEED® Gold certification status and will include a dynamic, escalator-interconnected 2-story lobby, a fully equipped fitness center, and an on-site white-tablecloth restaurant.
About Smith-Midland Corporation (DE)
Smith-Midland Corporation (DE) is a publically traded company (OTCQB: SMID). Smith-Midland (VA) develops manufactures and sells a broad array of precast concrete products for use primarily in the construction, transportation and utilities industries. SMC has two manufacturing facilities located in Midland, Virginia and Reidsville, North Carolina. Easi-Set® Worldwide, a wholly-owned subsidiary of Smith-Midland Corporation (DE), licenses the production and sale of SMC developed products around the world. For more information, please call (540) 439-3266 or visit www.smithmidland.com or www.beachprisms.com.
Media Inquiries:
media@smithmidland.com