Four generations have helped serve a diverse group of customers at Smith-Midland
May 15, 2014 | Associate / Plant News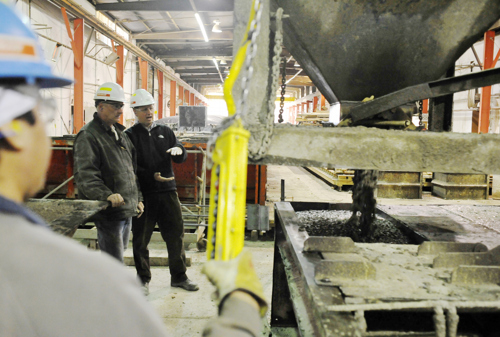 Some families can't even work together long enough to assemble toys on Christmas morning.
Not so for the Smiths who toil in Midland, though.
With generation No. 4 now working for their manufacturing operation, they exemplify how family bonds can build a business.
Indeed, at Smith-Midland, those bonds seem as strong as the outfit's concrete products.
It all started in 1960 as a side business for the family farm.
David G. Smith built a concrete cattle guard for his father-in-law, and then neighbors decided they wanted their own.
So Smith formed Smith-Cattleguard Co. with his son, Rodney, who's still chairman and chief executive today.
By 1964, Smith-Cattleguard Co. was so busy that it hired full-time employees.
David Smith retired in 1971, and Rodney Smith took over as president.
The next year, the business would add a product that would become a big seller: highway Jersey barriers. A contract for them for the Whitehurst Freeway project in Washington became the company's largest at the time.
And in 1978, Smith-Midland's Easi-Set precast concrete buildings were developed and patented, creating another product line that would be a hit.
The structures have a variety of uses from storage facilities to one that's a gym for the FBI.
Besides being strong – they can withstand weather problems and even large tree branches falling on them – they're helpful for projects that need to be completed quickly.
"The building just goes up a lot faster," said Ashley Smith, Rodney Smith's son and current Smith-Midland president and chief operating officer.
Because of new concepts such as this, Smith-Cattleguard was re-branded in 1985 as Smith-Midland Corp. to reflect the diversification from the company's agricultural roots.
Also that year, Smith-Midland was selected to provide highway barriers at the second inauguration of President Ronald Reagan.
The company has continued to garner this security work for each commander in chief since.
As successes such as this built upon each other, Smith-Midland went public in 1995, and the innovations continue apace.
Basically, if you can make it out of concrete, Smith-Midland probably sells it, from its famous cattle guards and J-J Hooks Jersey barriers to sound and retaining walls, precast restroom buildings for parks and shore-preservation "Beach Prisms."
Indeed, having different product lines has helped Smith-Midland log best-ever numbers over the past seven or eight years, despite the fact that that period coincided with economic woes nationally.
When one customer market was down, another picked up, Rodney Smith said.
Currently, the company has a total of 175 employees in all of its divisions, including a second concrete plant, Smith-Carolina, in Reidsville, N.C.
The Smiths said they want the company to be a good place to work. Jobs closer to Washington might pay more, Ashley Smith said, but they don't offer the quality of life of working in Fauquier County and not having a long commute.
Some employees have been with the corporation for three decades or more, and workers' input is valued, Smith said.
"Respect for people is a big part of the culture of the company," he said.
Several times, executives have gathered employees and their families and taken them on a bus trip to view the fruits of their labors. It's a way for them to see the products they helped create being used in communities.
And, of course, Rodney and Ashley Smith know some of those employees pretty darned well.
In addition to Ashley Smith, Rodney Smith's other three sons work in the business, as well.
Matthew Smith is vice president of sales and marketing, Jeremy Smith is building products manager for the Easi-Set Worldwide subsidiary, and Roderick Smith manages the batch plant and steel shop in Midland.
A fourth generation of the family is now represented, too: Roderick Smith's stepson, Nathaniel Oliver, manages Smith-Midland's highway-barrier rental arm, Concrete Safety Systems.
The family dynamic seems to work because the Smith brothers respect each other just as they appreciate their employees.
And, quite frankly, everyone understands the main goal: As Rodney Smith noted, he and his kin come to work to get their jobs done, not to drift into family squabbles.
Such diligence is perhaps another reason that Smith-Midland boasts a client list that includes the National Rifle Association, the Smithsonian, Marriott, Johns Hopkins Hospital in Baltimore, and different parts of the federal government.
The company also is working on a building in Tysons Corner that should prove to be, if not the tallest, at least one of the tallest, in Northern Virginia.
The project features more than 1,600 of Smith-Midland's precast panels on a 31-story edifice.
It's another job of which the Smiths and their employees can be proud.
Earlier this week, Roderick Smith described seeing J-J Hooks barriers all along roads while on a trip to New Jersey.
"See, that's our problem," Smith joked. "We look at concrete wherever we go."