Project Details
Location

Berkeley Heights, NJ

Owner

Connell Co.

Architect

PFVS Architecture

Contractor

Tocci Building Companies

General

52,671 sq. ft. of SlenderWall panels with R-21 closed-cell foam insulation

Quote

"For the community around us, we're building something that we hope that they will want to come and use for decade to come." Shane Connell, Executive Vice President, Connell Co.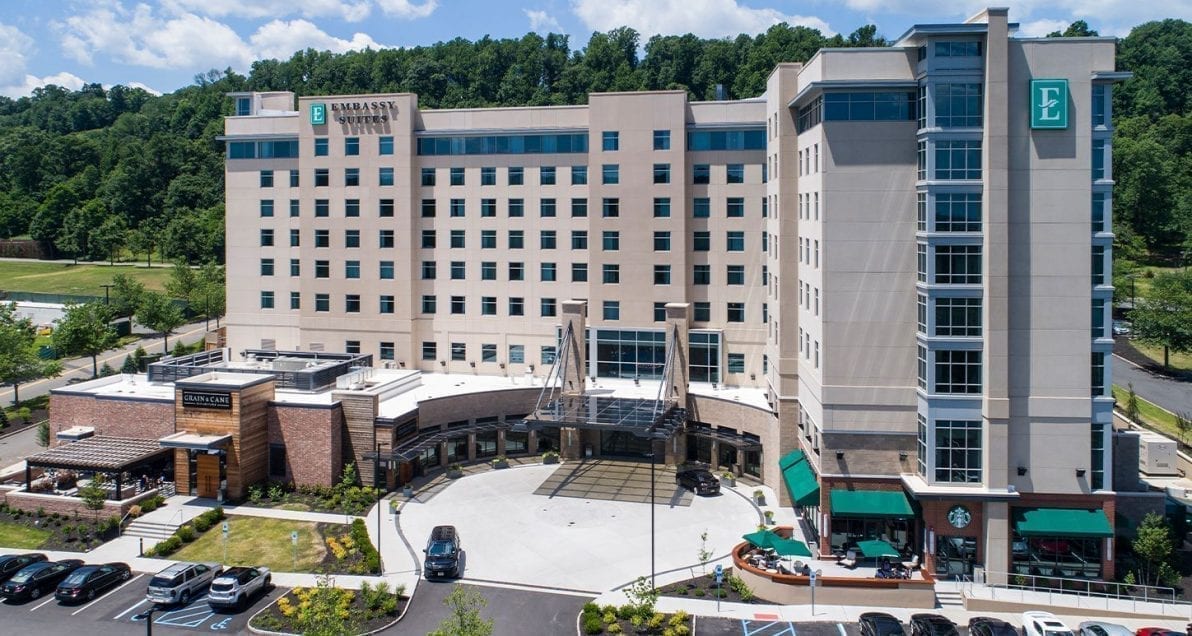 Low Maintenance and Long-Term Value
Fourth Generation Developer depends on SlenderWall for Keystone Building in their Namesake Project.
Connell Corporate Park continues its 40-year impact on Berkeley Heights and Central New Jersey. "You have to have a live-work-play mix," said Shane Connell, Executive Vice President and fourth-generation co-owner of Connell Co. whose corporate tenants include the likes of L'Oreal USA, Hewlett Packard, and Lifetime Fitness.
The company was founded in 1926 by Grover Cleveland Connell in New York City under the name Connell Rice & Commission Co. In the 1950s, second-generation owner Grover Connell moved the company to Westfield, NJ and between the late 1960s and mid-1980s he expanded the operation into food imports, finance, real estate, equipment leasing, and mining products. The family-owned company now has holdings in Massachusetts; California; Texas; Scottsdale, Arizona; Charlotte, North Carolina; Portland, Oregon; Denver and Seattle.
Reshaping the Property for the Next 40 Years
Their newly opened Embassy Suites Hotel is the center of an expansive rejuvenation of the 185-acre site, adjacent to Interstate 78 and 22 miles West of NYC. Expansion plans include 328 apartments, 85,000 square feet of retail, and a public park.
"The more urban you are, the more accessible you'll be," Connell added. "The hotel is part of a rebranding effort."
Adjacent to the hotel, The Grove, a two-acre public park lushly landscaped pedestrian-friendly urban woodland setting, will feature a great lawn, a meandering walking path, multi-level sculptural seating, the Connell Plaza amphitheater, fitness trails, outdoor basketball courts, and a dog park.
"With the public park, we're spending a significant amount of money to build something that not just our tenants can enjoy, but the public can actually use," Connell said. "So the more the public comes here, the more urban it will feel."
The new 176-suite hotel will provide visitors, guests and business tenants access to a luxurious stay, including a 3,000-square-foot top-tier Starbucks and exclusive to the hotel, Grain & Cane, a rustic, industrial-style 150-seat gastro-pub serving a Manhattan-inspired menu with patio seating and a private dining room.
Township Mayor Robert Woodruff said he was excited about the prospects of the hotel and the other developments to Connell Corporate Park. During the ribbon-cutting ceremony, the mayor described the Connell family as good neighbors. "They're always there when we need them."
Making decisions for long-term value
After researching several envelope products, Connell and their architecture firm PFVS ultimately entrusted the SlenderWall Architectural Precast Concrete System to clad their showcase building. The contractor on the project, Tocci Building Companies enlisted SlenderWall's Mid-Atlantic licensed producer Smith-Midland with the manufacturing and erection.
The 396 (52,671 square feet) smooth, two-tone light/dark gray acid washed precast concrete panels enveloping the eight-story hotel mimicked a much more expensive natural stone finish. The result was not only cost-effective but complements the style and amenities envisioned by the design and development teams.
"We are glad that hotel owners see the benefit of using a long-lasting, durable envelope for their projects," said Matthew Smith, Smith-Midland's Vice President. "Their headaches with maintenance and replacing the exteriors goes away."
The PFVS designed hotel features 17 kinds of accommodations, including two-bedroom layouts, standards, studios, and VIP Suites. A wide array of conference rooms, banquet rooms, and the Crescent – a glass-enclosed solarium accented with crystal chandeliers, 20-foot ceilings and surrounded by an English garden with an adjacent outdoor patio. Other hotel amenities will include electric car charging ports, fitness center, and an indoor saltwater pool.
A Team Built With Specific Experience
PFVS Architecture – Throughout the firm's history, they have assisted hospitality clients around the country in developing more than 300 hotel projects that were aesthetically and financially successful. Established in 1987, the award-winning firm is a nationally recognized leader in the design of hotels. PFVS has provided services for multiple brands within the Hilton, Marriott, Starwood, Intercontinental, Hyatt and Wyndham families.
Tocci Building Companies – A leading construction management firm, known for its collaborative approach, is internationally recognized as a leader in Virtual Design and Construction (VDC) and Integrated Project Delivery (IPD). Headquartered in Woburn, MA, Tocci provides intelligent building solutions and construction services with an integrated approach and emphasis on sustainable construction throughout the Northeast and Mid-Atlantic United States. These capabilities along with diligent supply chain management works to decrease the overall construction timeline and maintain budgets.
Additional members of the project team include; structural engineer Ehlert Bryan, MEP engineer TLC Engineering, consulting engineer Maser Consulting P.A., interior design firm Paradigm Design Group, and culinary design consultant Ricca Design.
"By using SlenderWall and its cost-effective combination of durable architectural precast concrete, stud wall framing, and closed-cell spray foam insulation integral to the panel," said Chris Grogan, Business Development Manager, Smith-Midland, "the project was able to reduce both the on-site trade work required and the overall project schedule."