Smith-Midland SlenderWall project The Lumen wins Grand Aurora Award
April 24, 2020 | SlenderWall
The Southeast Building Conference bestowed the Grand Aurora Award in 2019 for Best on the Boards Mixed-Use or Multi-Family Project to The Lumen.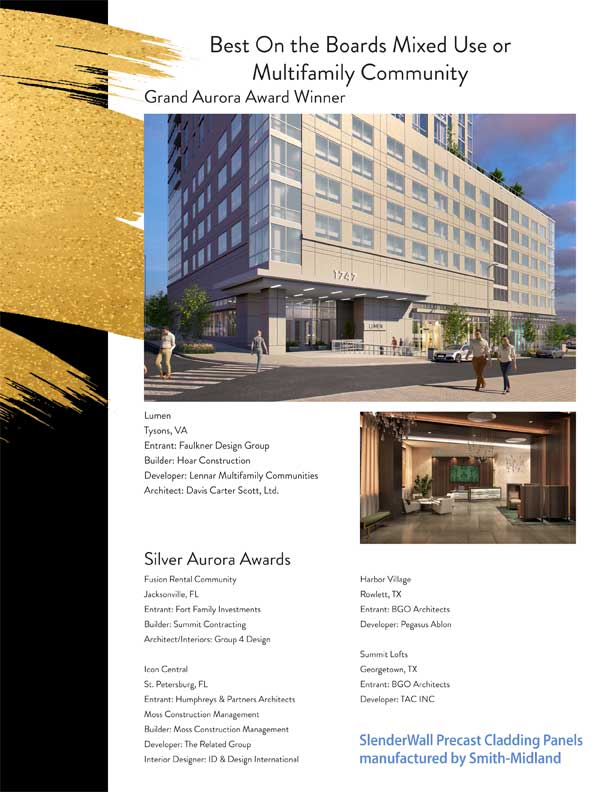 The 346-ft building developed by Lennar Multifamily Communities and located in Tysons Corner, Virginia recently opened. The Lumen includes 394,000 square feet of residential space, over 17,000 square feet of ground-floor retail and nine levels of parking, housing 398 units with luxury Penthouse units on the top three floors.
SlenderWall producer Smith-Midland and its Virginia plant manufactured and installed 57,666 sq. ft. (452 panels) of SlenderWall architectural precast and 23,502 sq. ft. (299 panels) of traditional architectural precast on the project. Smith-Midland also provided turn-key service including final joint insulation and caulking.
For more deatails about this project and SlenderWall, CLICK HERE.
About SlenderWall
SlenderWall, an Easi-Set Worldwide licensed product, is a unique composite cladding system, 66% lighter than traditional 6" thick precast and with higher thermal qualities. This is achieved by integrating a galvanized interior steel stud frame with a 2" thick precast concrete panel and factory installed closed-cell foam insulation.
Sales Inquiries:
(540) 439-3266
Request for Quote