J-J Hooks Freestanding Precast Concrete Safety Barrier Now MASH TL-3 Compliant
November 18, 2016 | J-J Hooks
Midland, Va., November 22, 2016: Easi-Set Worldwide, a subsidiary of Smith-Midland Corporation (DE) (OTCQX: SMID) product announcement. Easi-Set Worldwide announces a successful MASH TL3 FREESTANDING crash test of their enhanced J-J Hooks temporary precast concrete barrier design at the Texas Transportation Institute, College Station, TX.
The new J-J Hooks MASH-tested Freestanding barrier, along with the previously MASH tested J-J Hooks restrained Bolt-down and Pin-down barriers, are fully compliant 2 years ahead of the requirements contained in the January 7, 2016 AASHTO/FHWA Joint Implementation Agreement for MASH. The enhanced MASH freestanding design will eventually replace the extremely successful NCHRP 350 TL3 design originally tested in 1999. Currently, more than 12,000,000 linear feet of J-J Hooks temporary barrier have been produced and installed worldwide.
MASH TL3 (Manual for Assessing Safety Hardware) testing uses a larger/heavier test vehicle (crew cab pickup) which imparts substantially more energy at impact compared to the vehicle (standard pickup) used in the NCHRP 350 testing. The MASH Test Level 3 freestanding J-J Hooks barrier crash test produced the lowest permanent deflection in the industry.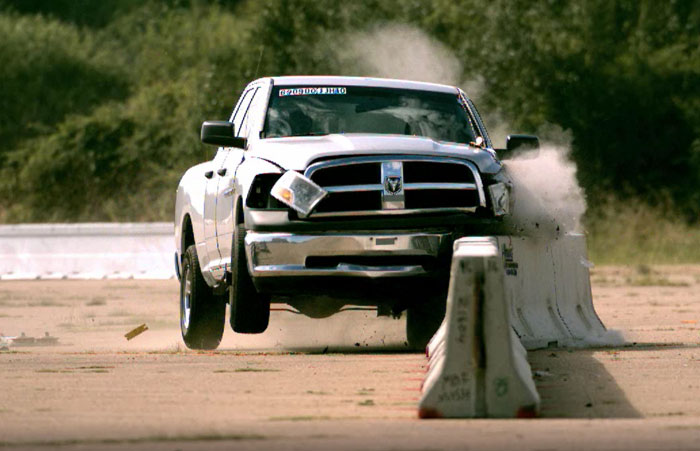 About Smith-Midland Corporation
Smith-Midland Corporation (DE) is a publically traded company (OTCQB: SMID). Smith-Midland (VA) develops, manufactures and sells a broad array of precast concrete products for use primarily in the construction, transportation and utilities industries. SMC has two manufacturing facilities located in Midland, Virginia and Reidsville, North Carolina. Easi-Set® Worldwide, a wholly-owned subsidiary of Smith-Midland Corporation (DE), licenses the production and sale of SMC developed products around the world. For more information, please call (540) 439-3266 or visit www.smithmidland.com.
Media Inquiries:
media@smithmidland.com
Sales Inquiries:
(540) 439-3266