SlenderWall® Architectural Panels Chosen For Landmark Tysons Corner Project
November 25, 2016 | Architectural Products
On the corner of Route 123 and Route 7, the "original" Tysons Corner, VA, Lennar Multifamily Communities (LMC) is developing the new Tysons Central complex. Lennar Corporation, a Fortune 500 company, is a top ranked player in the home and multi-family market. Tysons Central, a signature hi-density project for LMC, will be connected by walkways to the new Greensboro Station on the DC Metro Silver Line.
Building F, "The Lumen", designed to be a signature structure by the architecture firm Davis, Carter, Scott of Tysons, VA, will be the first in the six building development. The 346-ft, 32-story building, approximately 865-ft rise above sea level, will be the tallest by elevation in the Tysons area, with expansive views of Washington, DC and the Blue Ridge Mountains. The project will include 394,000 square feet of residential space, over 17,000 square feet of ground-floor retail and nine levels of parking. The building will house 398 units on 25 floors with luxury Penthouse units on the top three.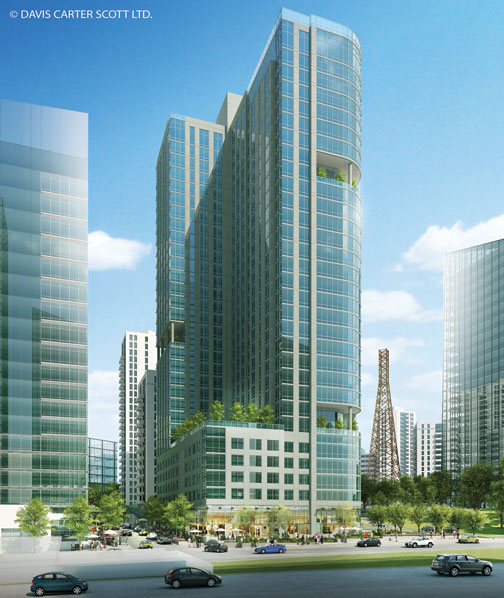 LMC specified SlenderWall® architectural precast concrete panels, a licensed product from Easi-Set Worldwide, for the Lumen's outer envelope. The contractor, Hoar Construction of Vienna, VA, engaged SlenderWall producer Smith-Midland and its Virginia plant to manufacture and install 57,666 sq. ft. (452 panels) of SlenderWall architectural precast and 23,502 sq. ft. (299 panels) of traditional architectural precast. Smith-Midland will provide turn-key service on the project, including final joint insulation and caulking. Production of the panels is currently scheduled to begin in March 2017, with erection to be completed in early 2018.
SlenderWall architectural panels are a unique product, 66% lighter than traditional 6" thick precast. This is achieved by integrating a galvanized interior steel stud frame with the 2" thick precast concrete. These panels will be designed with a 1.5" thermal air gap between the stud from and the precast which will be filled with 3.5" of factory-installed closed-cell foam to achieve an R-24 rating. SlenderWall will play a significant role in the plans for this building to achieve a LEED rating.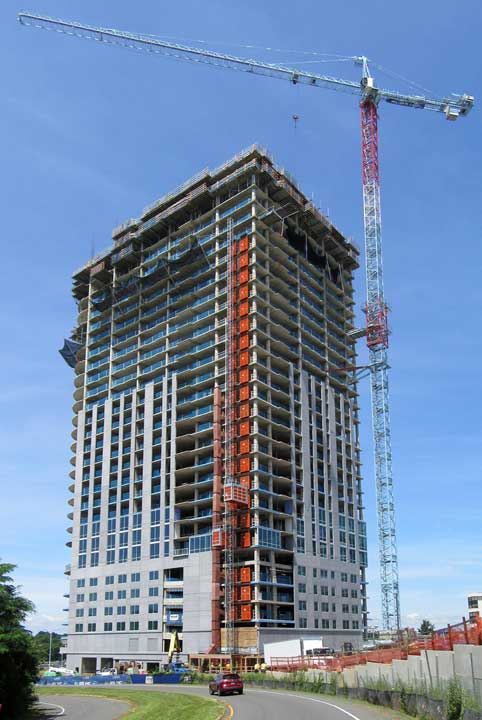 About Smith-Midland Corporation
Smith-Midland Corporation (Del.) is a publicly traded company (OTCQX: SMID). Smith-Midland develops, manufactures, and sells a broad array of precast concrete products for use primarily in the construction, transportation, and utilities industries. Smith-Midland Corporation (Del.) has three manufacturing facilities located in Midland, VA, Reidsville, NC, and Columbia, SC. Easi-Set Worldwide, a wholly-owned subsidiary of Smith-Midland Corporation (Del.), licenses the production and sale of Easi-Set products, including SlenderWall, and provides diversification opportunities to the precast industry worldwide. For more information, please call (540) 439-3266 or visit www.smithmidland.com or www.slenderwall.com.
Media Inquiries:
media@smithmidland.com
Sales Inquiries:
(540) 439-3266
Request for Quote