Smith-Midland purchases South Carolina precast concrete plant
August 25, 2016 | Associate / Plant News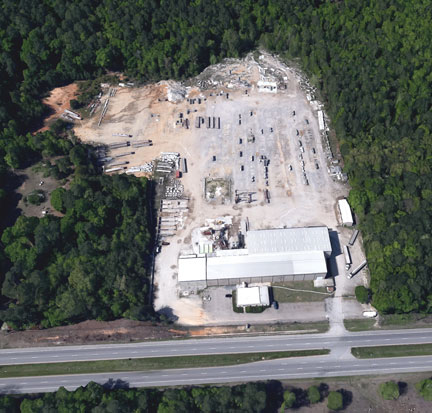 MIDLAND, Va. – August 26, 2016 — The Smith-Midland Corporation (OTCQX: SMID) has opened a precast concrete manufacturing plant near Columbia, S.C. The newly formed subsidiary will be known as Smith-Columbia.
"During the second quarter the company was successful in closing its purchase agreement for the acquisition of 39 acres of land and approximately 40,000 square feet of production and office space comprising the new Columbia precast concrete plant," Chairman and CEO Rodney Smith said. "Since February, we have leased the facility until the closing date to produce on a $3.5 million contract for barrier, which will run through the end of 2016.
"We will gradually add to the range of products to be produced by the plant, beginning with sound wall, then buildings and then to our most profitable product, Slenderwall," Mr. Smith added. "The geographical location for Columbia includes the Atlanta metropolitan area and approximately 10 military bases in South Carolina and Georgia. With the addition of this facility, our geographical sales area now includes the entire eastern, coast from New York City to the southern Georgia border, which makes Smith-Midland a major East Coast precast company."
Bobby Rochester serves as general manager at Smith-Columbia. Mr. Rochester went to work for the Tindall Corp. in July 1985. In 19 years with the company he learned the precast business from the ground up, moving all the way from a shop floor production worker to plant manager. During his tenure there, he studied business management at Limestone College in Gaffney, S.C. In 2004, Mr. Rochester took a management position with Metromont Corp., at its North Carolina Architectural Plant and then as plant manager for a start-up facility in Richmond. "Working for just two companies across a 30-plus year career is a rare feat these days," Mr. Smith said. "The Smith-Midland Corp. is proud to have such a knowledgeable and stalwart candidate to take the reins of our Smith-Columbia facility."
The chairman noted that a new, $305-billion national highway bill would give South Carolina more than $3.5 billion in funding over the next five years. That starts with $679 million in fiscal 2016. South Carolina will borrow $2.2 billion to jump-start improvements on its deteriorating roads. State officials have determined they need $1.5 billion annually over several decades to bring the nation's fourth-largest highway system up to to good condition. "These bills bode well for the strength of the highway barrier, utility vault and highway noise wall project availability for the Smith-Columbia facility over the next decade," Mr. Smith said.
Smith-Midland Corp., a publicly traded company (OTCQX: SMID), develops, manufactures and sells a range of precast concrete products for use primarily in the construction, transportation and utilities industries. It has three manufacturing plants located in Midland, Reidsville, N.C., and South Carolina. Easi-Set Worldwide, a wholly-owned subsidiary of Midland-based company, licenses the production and sale of its products and provides diversification opportunities to the precast industry worldwide. For more information, please call (540) 439-3266 or visit http://www.smithmidland.com
Media Inquiries:
media@smithmidland.com
Sales Inquiries:
(540) 439-3266
Request for Quote