August 13, 2016 | Easi-Set Buildings
"Can you hear me now?" takes on a different meaning when your jobsite spans a 330-acre state park and there is no cell phone service. The crew for Smith-Midland Corp., Midland, Va., overcame this challenge and successfully manufactured and installed nine Easi-Set Buildings at Echo Bluff State Park, Eminence, Mo. Purchased in November 2013, the new park is the 88th in the state, opening this summer. Smith-Midland, a licensed producer of Easi-Set Worldwide products, was called on to bring needed amenities to park attendees—quickly and on budget.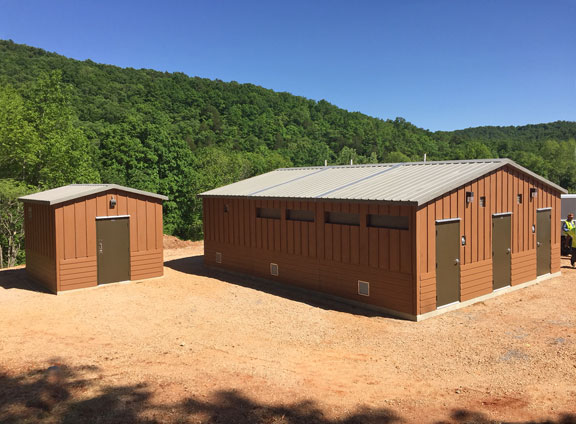 The massive scope of this project with nine buildings in a vast land presented obstacles from the start. The large number of crew members had to work fast to meet the park's opening deadline. With the added communication issues, the crews brought their creativity into play to ensure the schedule and quality of the installations was not affected by the lack of cell service. To start with, much of the communication for this project was done after working hours and via email.
"It was an extremely challenging project because when there was an issue, our installation manager had to leave the site and make a few calls. But we were able to overcome this inconvenience," notes George Sharikas, sales manager, Utility Products Division, for Smith-Midland.
The nine Easi-Set Buildings have a similar style, with a horizontal lap siding and batten board finish with a simulated metal roof. The exterior colors are Cedar Wood Brown and Muddy Gray with Montana Moss for the door color. The buildings include: • One six-stall restroom with five toilets, one urinal and four sinks. • One six-stall restroom with five toilets, one urinal, four sinks and four showers. The building was manufactured in three pre-assembled sections, with each section weighing 70,000 pounds. • Two chlorination buildings at 10'-6" wide x 12' long with a gabled roof. • Three double wet restrooms with toilets and sinks for men and women. • One double dry restroom. • One water tank structure at 10'-6" x 20' long with a gabled roof.
The state park was designed to attract everyone from hikers, campers, wedding goers and novice nature lovers. Because of Smith-Midland's ingenuity and ability to plan for each precast concrete building install while creatively communicating, the land now is well-equipped for when nature calls.
Media Inquiries:
media@smithmidland.com
Sales Inquiries:
(540) 439-3266