Easi-Set Buildings Stand Above the Alternatives in Flood Area
January 19, 2008 | Easi-Set Buildings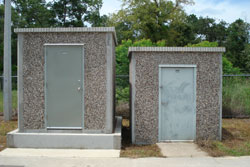 MIDLAND, Va. – With torrential rains making headlines across the country over the summer, many in public works sector have been confronted with the flooding of key infrastructure. For the rest, these events provide a wake up call: flooding can happen anywhere, and can happen in the blink of an eye.
Officials working at refineries, petrochemical plants and in public works in the Houston area have also had to consider the possible effects of wind, along with the floodwaters. Several recent projects highlight their efforts to safeguard their public works infrastructure from the ravaging effects of flood waters, resulting from tropical weather or otherwise.; Projects at the City of Houston Simms Bayou waste water treatment plant and the Enterprise gas pumping station demonstrate officials' commitment to keeping infrastructure up and running, even in the worst of weather conditions.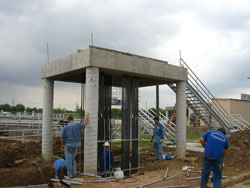 Following Tropical Storm Allison, switching stations at both locations were under four to six feet of water. In an effort to prevent stations from going down in the next storm, officials were seeking a solution where the buildings could be elevated above the expected water levels, preserving their ability to function during and after a storm.
An Easi-Set precast concrete building was the logical choice to meet this customer's needs, and officials at Lonestar Prestress Mfg., Inc. (LPMI), were able to create a customized solution that provided the right building at the right location.
LPMI has worked with city engineers on a variety of projects requiring durable, maintenance-free control buildings. According to Leo Rowe, sales manager at LPMI, the corrosive environment of water treatment and wastewater treatment plants was key to choosing LPMI's Easi-Set precast concrete buildings over metal buildings. When choosing between the Easi-Set buildings and another alternative, a block structure, the Easi-Set building was chosen again because it is pre-engineered and designed to meet the latest building codes and wind requirements.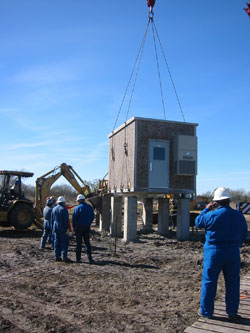 In areas where flooding and high water are an issue, buildings were required to be elevated to protect expensive MCCs, generators and switchgear. Some buildings only needed to be raised a foot or two, while others were elevated as much as 12 feet above grade. LPMI manufactured precast concrete boxes which were used to backfill with stabilized material, then set the precast building on top, elevating the building anywhere between one and four feet above grade. Taller elevations were achieved with cast-in-place concrete piers, which supported the pre-assembled building or cast-in-place floor slab.
In addition to the advantage of efficient customization, Easi-Set buildings offer cost savings as well. The buildings cost significantly Less than comparable built-in-place construction and can be continuously relocated as requirements change. Although not a requirement for this particular application, additional cost savings are added over built-in-place construction in cases where buildings need to be relocated as requirements change.
Easi-Set transportable precast concrete buildings offer a lifetime, maintenance-free solution suitable for almost any application.
The company's buildings can be tailored to meet any need.; Custom sizes are available, and can range from 10 feet by 12 feet to 40 feet by 200 feet (clear span). Also available are a variety of custom-finished exteriors so the buildings can aesthetically blend in with existing structures, specific to the customer's requirement.
The installation of an Easi-Set building also saves time, allowing the site to become operational more quickly. With a built-in floor, no foundations or footings are required, unLess by local code. A level six-inch layer of sand or crushed stone on an approved sub-grade is all the preparation required. They are produced by local manufacturers throughout North America, and can be transported to the site and installed in as little as a few hours.
In addition to the cost and customization advantages, Easi-Set buildings are also unsurpassed in durability. A special post-tensioned roof and floor design provides superior water-tight construction. Buildings will not warp, rust, corrode, rot or burn and retain their finish without maintenance. Heavy-duty construction features galvanized insulated doors, vandal-resistant steel reinforced precast concrete construction, tamper-proof hinges and deadbolt locks. Buildings are bullet resistant, fire resistant, petrochemical blast resistant and earthquake resistant, with a seismic zone 4 rating. They are able to withstand wind loads of up to 150 mph. Buildings can be located in remote areas, are durable, secure and do not require attendants.
In addition to equipment enclosure applications such as at Simms Bayou and Enterprise, Easi-Set precast concrete buildings can be used as restrooms, concession stands, press boxes, storage buildings, electrical switching stations and transformer housings, gas control shelters and valve enclosures, water and wastewater treatment facilities, reduced pressure zone and water meter
enclosures, fiber optic regeneration huts, cable TV head-end buildings, hazardous materials storage, equipment shelters and much more.
Recently, officials at Easi-Set introduced a two-piece, post-tensioned, pitched roof design for their buildings. A number of local producers have already produced and delivered pitched roof buildings to better serve their customers' diverse needs.
LPMI, a privately-owned company based in Houston, manufactures prestressed concrete poles for the utility, lighting and security Industries as well as Easi-Set precast concrete buildings and other assorted precast products. LPMI has been producing Easi-Set precast concrete buildings for more than 10 years and has one manufacturing facility in Houston which currently produces more than 6,000 poles and 75 buildings annually. For more information about LPMI, please call (713) 896-0994 or visit http://www.lonestarprestress.com.
For more information about Easi-Set buildings, visit www.precastbuildings.com, or call 1-866-252-8210 to speak to a representative who can help you customize a building system to meet your specific needs.