Easi-Set Industries Introduces New Restroom Series
January 10, 2008 | Easi-Set Buildings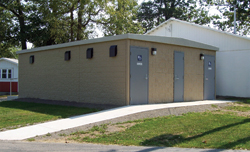 MIDLAND, Va. – Easi-Set Industries introduces its newest product line in restroom buildings, the "Skyline" series.
The Skyline series is the latest addition to Easi-Set's phenomenally successful family of transportable precast concrete building restrooms. It is the largest of the restrooms and offers options including additional urinals and sinks and the flexibility to be customized to include features such as a concession stand, press box and storage, all within the same building. The "green-friendly" Skyline series is available in three standard sizes, 12′ x 20′, 20′ x 24′ and 24′ x 30′, making them ideal for larger parks and at school sports stadiums. The series features Easi-Set's all concrete post-tensioned concrete roof and floor systems.
The 12′ x 20′ Skyline series model is constructed entirely from precast concrete and delivered as a pre-assembled unit. The 20′ x 24′ and 24′ x 30′ Skyline series models are site-assembled and designed using an Easi-Span type building. The larger Easi-Span restrooms can be increased in length in 10′ increments to up to 200′. As with all Easi-Set Industries' transportable precast concrete buildings, the Skyline provides durability, flexibility and cost effectiveness. Easi-Set transportable precast concrete buildings offer a lifetime, maintenance-free solution suitable for almost any application. They can be tailored to meet any need. Custom finished exteriors are available so the buildings can aesthetically blend in with existing structures and surroundings specific to the customer's needs. The Skyline series joins the Blue Ridge and Sierra series, all already extremely popular and in use across the U.S. and Canada.
The new restrooms provide the proven benefits of Easi-Set's tried and true methods. The patented post-tensioned roof system withstands all weather, temperature, impact and seismic conditions. Installation is made easy, in as little as one day, with minimal site preparation. Easi-Set buildings are locally manufactured throughout North America and delivered directly on site.
Easi-Set buildings are vandal resistant due to the steel reinforced precast concrete construction, tamper-proof hinges, dead bolt locks and 18-gauge galvanized steel insulated doors. The interior is steel form finished providing maintenance-free, smooth and easy to clean surfaces. All Easi-Set Restrooms meet A.D.A. standards and accessibility requirements.
For more information on Easi-Set precast concrete buildings or licensing opportunities, please contact Easi-Set by calling 800-547-4045, emailing info@easiset.com or visiting www.easiset.com or www.precastbuildings.com.