NPCA recognizes Smith-Midland's commitment to Lean Manufacturing with a 2021 Best Practices Award
May 25, 2021 | Associate / Plant News, Awards
Smith-Midland takes home a second place award during the 2021 Precast Show ceremony.
The National Precast Concrete Association Best Practices Award recognizes industry best practices and improvements that showcase the best way to do a job, treat the environment, save money… and more. This award continues to recognize the precast industry's best sustainable practices and innovations, and recognizes myriad safety and lean manufacturing processes that improve life, not just for the community and environment, but on the production floor, as well.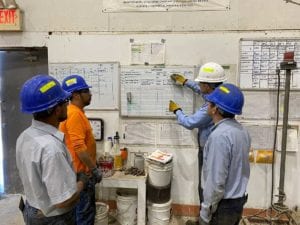 Smith-Midland's entry: Gap Board Systems
The associates at Smith-Midland are a storehouse of good ideas. They engage a tool that allows detailing of pain points and development of processes that improve plant productivity, a tool they call Gap Boards. Gap Boards are visual charts that encourage associates to write down any problems they encounter, and the boards rename every problem an opportunity. The tool requires associates to identify a root cause and a champion to implement whatever fix is identified.
"The Gap Boards quickly became a great outlet for problem solving throughout the company. It's used almost everywhere, out on the plant, within the sales department and more," said Matthew Smith.
The measure has increased employee awareness to identify opportunities for improvement, improved employee morale, and helps employees exercise their problem-solving skills.