Smith-Midland Corporation makes move to build stock value
December 18, 2020 | Associate / Plant News
By Lawrence Emerson Editor, FauquierNow.com
Over six decades, the Midland-based concrete products manufacturer has earned a reputation for innovation, developing well-regarded products, primarily for the construction, transportation and utility industries.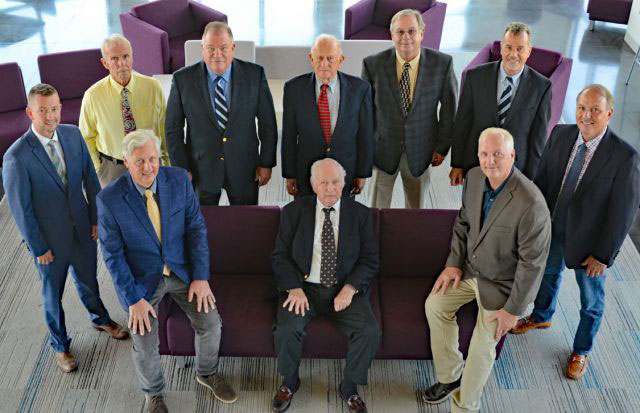 Image by Lou Emerson. Smith-Midland Board of Directors after a recent meeting at the Warrenton-Fauquier Airport, from left (front row): CEO Ashley B. Smith, Chairman Rodney I. Smith and Roderick Smith, (back row) CFO A.J. Krick, Wesley A. Taylor, James Russell Bruner, Ed Broenniman, Arthur X. Miles, Richard Gerhardt and VP Matthew I. Smith.
But, Smith-Midland in recent years also has increased its focus on improving the bottom line and attracting investors. The company's stock last month returned to the Nasdaq exchange after an absence of 21 years, during which its shares traded over the counter.
"I think we're finally at the place where we can do it," Chief Financial Officer A.J. Krick said in a recent interview. "It gives us more exposure, more potential investors and better liquidity for shareholders . . . .
"If we need to raise capital, we have the ability to do it," Mr. Krick said of the Nov. 16 "uplisting."
CEO Ashley B. Smith called it "the next natural step. I think the time is right now . . . .
"What we're doing is building on what Dad and Grandad put in place. My motto is, 'Leave things better than I found it'," Mr. Smith added. "It's all based, more or less, on what Dad and others started in the '70s," when company aggressively began diversifying its products.
Midland farmer David G. Smith in 1960 founded Smith Cattleguard, making a simple precast device that allows vehicles but not livestock to pass on farm roads, then adding other agricultural products. Rodney I. Smith six months later joined his father and led the company's expansion.
New products included underground utility vaults, transformer pads and highway barriers. The company licensed its patented inventions to other manufacturers and branched from Midland with a second plant in North Carolina.
Rebranded as Smith-Midland, the company has since expanded into architectural components, including the patented SlenderWall system, often used in large structures, built a new North Carolina plant and purchased one in South Carolina.
The company last year reported record total revenue of $46.7 million, up 16 percent from 2018, and a $2-million profit. That marked the fifth consecutive year of profitability, after Smith-Midland reported an operating loss of $804,000 in 2014.
"Our team has been through some really, really tough times," Ashley Smith admitted.
The company's stock first appeared on the Nasdaq exchange in 1995. But, following a warning from the exchange, Smith-Midland in 1999 voluntarily delisted its stock after net assets dropped below $2 million and the shares traded at less than $1 — failing to meet the Nasdaq's minimum requirements.
Over the last two decades, however, Smith-Midland has built a much stronger financial position. After the 9/11 terrorist attacks, it emerged as a major player in the security business, renting and installing concrete barriers for political conventions, presidential inaugurations and other events.
Contractors use its custom-cast architectural panels to clad high-rise buildings, corporate headquarters and college dorms. Smith-Midland wall systems that look like stone or brick extend for miles along highways and entrances to high-profile venues. Its patented JJ-Hooks barriers line highway construction zones in addition to their security applications.
The new plants have extended the company's ability to compete for large contracts throughout the Southeast.
Ashley Smith, a company executive since 1990 and board member since 1994, succeeded his father, who remains chairman, as CEO in May 2018. The younger Smith has studied Japanese industrial discipline, including "lean manufacturing," to make the company more efficient.
"We're planning very aggressive growth," Mr. Smith added.
He and Mr. Krick have met with potential investors in Los Angeles and San Francisco.
"We've just been getting out and telling the story to more people in more places," the CEO said. "I think that's one of the biggest things."
For the full article click here.
About Smith-Midland
Smith-Midland develops, manufactures, licenses, rents, and sells a broad array of precast concrete products for use primarily in the construction, transportation and utilities industries. Management and the board own approximately 17.5 percent of SMID stock, aligning with shareholder values.
Forward-Looking Statements
This announcement contains forward-looking statements, which involve risks and uncertainties. The Company's actual results may differ significantly from the results discussed in the forward-looking statements. Factors which might cause such a difference include, but are not limited to, the risk that the COVID-19 outbreak may significantly adversely affect future operations, product demand, the impact of competitive products and pricing, capacity and supply constraints or difficulties, general business and economic conditions, our debt exposure, the effect of the Company's accounting policies and other risks detailed in the Company's Annual Report on Form 10-K and other filings with the Securities and Exchange Commission.
For more complete information on Smith-Midland Corporation, visit the Investor Relations page and  SEC Filings.
Contact:
Media Inquiries:
AJ Krick, CFO
540-439-3266
investors@smithmidland.com
Sales Inquiries:
info@smithmidland.com
Investor Relations Inquires:
Three Part Advisors
Steven Hooser, Partner
214-872-2710
shooser@threepa.com