Smith-Midland's SlenderWall project in Tysons racking up awards.
October 30, 2020 | SlenderWall
This week announcements were made on the latest two awards for Smith-Midland's recent SlenderWall architectural cladding project in Tysons, Virginia. Both the AGC of DC (Associated General Contractors) and the ABC of Metro Washington (Associated Builders and Contractors) have bestowed awards on the 346′ tall mixed-use project. The AGC Washington Contractor Award and the ABC Excellence in Construction Award recognized the role Smith-Midland's premier architectural precast concrete cladding product SlenderWall played in the beauty and performance of the project.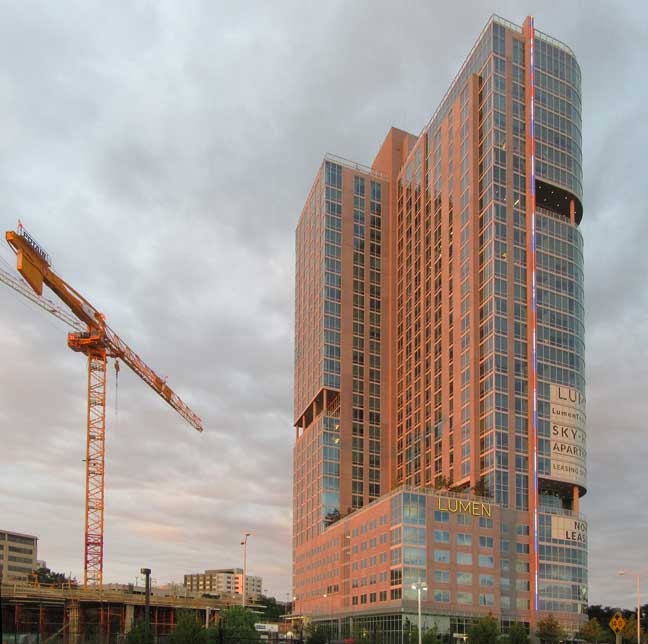 This is the third award for the Lumen. Earlier this year it garnered a Southeast Building Conference Grand Aurora prize.
Plans for an office building at the ballpark were originally conceived by Donald Moore, President of the Grasshoppers organization, and brought to owners Front Street Capital. The project became a reality when the lead tenant, Tuggle Duggins Attorneys at Law committed to anchor the building. Another anchor tenant in the facility is First National Bank, who has chosen Downtown Greensboro as their new market headquarters.
Production of the panels is beginning immediately with delivery scheduled in January 2020. Smith-Midland will also provide erection services on the project. Occupancy is expected in the summer of 2020.
The Lennar Multifamily Communities project was designed by Architects Davis, Carter, Scott. Working with General Contractor Hoar Construction and Engineer Fernandez & Associates, Smith-Midland produced and installed more than 80,000 sq. ft. of SlenderWall and traditional architectural precast panels. Smith-Midland worked with their own team of subcontractors, EE Marr Erectors and Wilcox Caulking, to provide Hoar with a turn-key system. The factory insulated SlenderWall panels contributed a R-24 rating to thermal performance.
Sales Inquiries:
(540) 439-3266
Request for Quote