Fauquier Health and Smith-Midland are making Wellness a Priority
December 16, 2019 | Associate / Plant News
News release from Fauquier Health
Smith-Midland Corporation (Midland, VA) recently partnered with Fauquier Health to promote the health system's newly implemented "WorkPoint Wellness Program." The WorkPoint Wellness Program is a corporate wellness program offered to local employers to meet occupational health needs, encourage wellness activities including preventative health screenings, educational lectures, exercise classes and more. The program seeks to help employers meet the health needs of their employees, encourage health and wellness, and avoid missed work days. This partnership launched with during Smith-Midland's recent annual health fair and had participation from over 80 associates.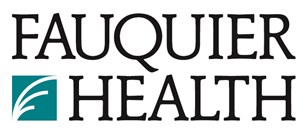 Lisa Morgan, Fauquier Health's Director of Post Acute Services is leading the WorkPoint Wellness Program effort. When asked about the Smith-Midland health fair, she said, "It was a pleasure working with Leslie Borta and Estelle McClinton from Smith-Midland. It's clear they are dedicated to the wellbeing of the employees, and engaged in connecting their employees with convenient healthcare." Lisa also went on to comment that, "Smith-Midland cares about its employees, and have already agreed to more collaborative health related events onsite at the Smith-Midland facility in 2020. This includes a Heart Healthy health fair during February, which is National Heart Month."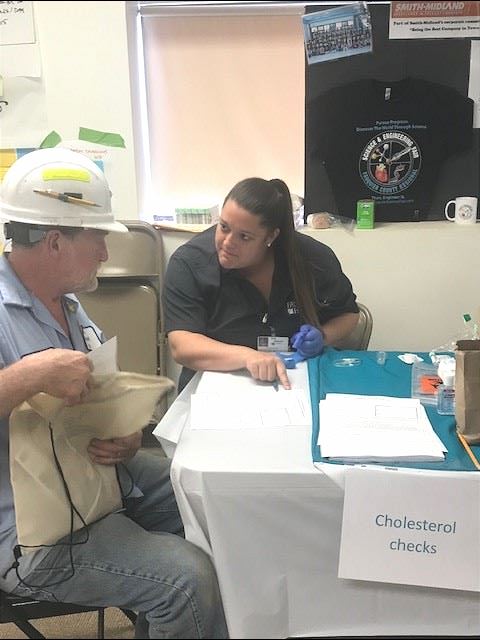 A Fauquier Health employee giving a Smith-Midland employee a cholesterol check.
Meghan Costello, the WorkPoint Wellness Employer Health Program Coordinator, did a great job customizing the health fair to meet the requests of Smith-Midland.
During the health fair, the associates received the opportunity to learn about their personal health and local health care resources that are available. To help set the stage, a large Smith-Midland conference room was converted into a friendly "walk-in clinic" where associates could receive flu and tetanus vaccinations, cancer screenings, body mass index (BMI) calculations, cholesterol readings, and foot and blood pressure testing as well as 15 minute chair massages.
Overall, the health fair was educational, informative, and inspiring to those involved to get more active in their health care management. The fair ended on a positive note with a light-hearted raffle drawing which included mums and therapeutic massages from the Fauquier Health Wellness Center.
Today, Fauquier Health is looking forward to the future of what the WorkPoint Wellness Program will bring to the local businesses of our surrounding communities. This program supports the overarching mission of Fauquier Health in effort of Making Communities Healthier.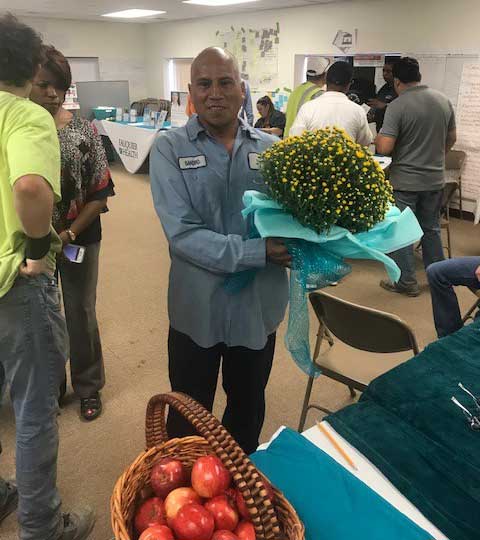 Sandro Mogollon, of Smith-Midland Corporation, was one of the raffle drawing winners.