Smith-Midland makes it an OTCQX Top 50 Three-Peat
January 25, 2019 | Investor Relations / Financials
MIDLAND, VA – January 24, 2019 —The Smith-Midland Corporation (OTCQX: SMID) has been ranked by OTC Markets Group as one of the Top 50 performing companies on their premier OTCQX exchange. Smith-Midland is the only company to be ranked in the Top 50 three years in a row.
"We pride ourselves on being financially sound and focused. Our commitment to grow our market share, build a backlog of work, and increase long-term shareholder value, all while maintaining a positive balance sheet has continued to prove successful," said Ashley Smith, CEO of the Smith-Midland Corporation. "Being ranked in the Top 50 three years in a row is a great recognition of our hard work."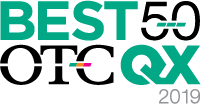 Currently the OTC Markets Group trades over 10,000 securities on a daily basis. Of these, only 546 securities worldwide are listed within the OTCQX group, the very Top Tier of the OTC market. Smith-Midland Corporation resides within a select group of only 78 of these securities further qualified to be listed as US Premier.
"We congratulate this year's OTCQX Best 50 companies on this recognition and for the diligence and commitment they share in providing the optimum levels of transparency and disclosure to their respective investor base," said Jason Paltrowitz, Director, OTC Markets Group International Ltd. and EVP, Corporate Services.
About OTCQX® Best Market
The OTCQX® Best Market is for established, investor-focused U.S. and international companies. To qualify for the OTCQX market, companies must meet high financial standards, follow best practice corporate governance, demonstrate compliance with U.S. securities laws, be current in their disclosure, and have a professional third-party sponsor introduction. Penny stocks, shells and companies in bankruptcy cannot qualify for OTCQX. The companies found on OTCQX are distinguished by the integrity of their operations and diligence with which they convey their qualifications.
Contacts
Smith-Midland Corporation
Media Inquiries:
AJ Krick
Chief Financial Officer
540-439-3266
investors@smithmidland.com