Smith-Midland promotes experience from within for vital VP of Operations position
December 17, 2018 | Associate / Plant News
On Friday December 14th The Smith-Midland Corporation (SMID) announced the promotion of Mr. Sergey Samoilenka to VP of Operations of its flagship manufacturing facility in Midland, Virginia. Mr. Samoilenka has put his decades of precast concrete experience to work for The Smith-Midland Corporation since 2004. His role prior to becoming VP of Operations was as plant manager of the Midland, VA facility. His guidance and support of the large and diverse workforce has played a major role in the expansive growth of the company.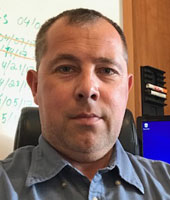 Sergey started his career in 1997 as a Production Supervisor in the immense Plant of Effective Industrial Constructions in Minsk, Belarus and quickly progressed his way up to plant manager of that facility. In 2002 he was recruited to be the night shift plant supervisor by the Bethel, PA precast firm, Concrete Safety Systems, a leading producer of highway sound wall and precast safety barrierin the mid-Atlantic region.
Mr. Samoilenka speaks three languages; English, Russian and Spanish. He holds an Engineer Technologist of Precast Concrete degree from Belorussian State Polytechnic Academy. His continuing precast industry education includes certifications from the American Concrete Institution (ACI), Precast/Prestressed Concrete Institute (PCI) and National Precast Concrete Association (NPCA).