PCI certification expands Smith-Columbia's market reach
July 23, 2018 | Associate / Plant News
The Smith-Columbia plant in Hopkins, South Carolina was awarded full B2 & C1 plant certification by the Precast/Prestressed Concrete Institute (PCI) on July 18th.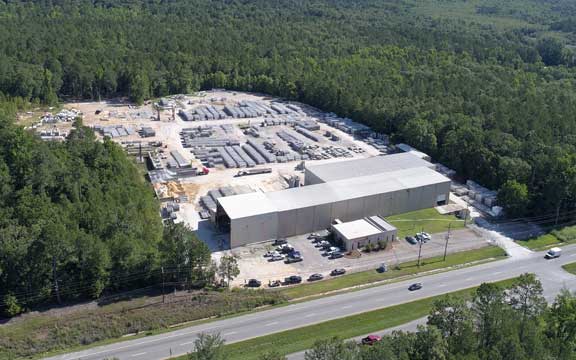 "This certification was primarily sought to increase the market share of our pre-stressed sound wall columns," said Bobby Rochester, Smith-Columbia's General Manager. "It also allows us to offer a wider range of products for our DOT and architectural customers that require certification, increases our ability to be more efficient in our manufacturing processes and ultimately more competitive on our pricing. We are excited to be part of PCI and members of the regional chapter Georgia-Carolinas PCI. We look forward to growing our market share and serving the needs of South Carolina and our surrounding states that are currently upgrading their infrastructures."
"We now have two of our three plants PCI certified (VA and SC), allowing us to reach across the Mid-Atlantic and Southeast with multiple products," added Alan Pritchard, Smith-Midland's Quality Manager. "All three of our plants also hold full National Precast Concrete Association (NPCA) plant certifications as well. Our North Carolina plant will apply for PCI certification once the new facilities that are currently under development become operational. Providing our customers the assurance of quality-controlled, efficiently manufactured products is a core component of Smith-Midland's future."
B2 certification covers prestressed miscellaneous bridge products (non-superstructure) including piling, sheet piling, retaining-wall elements, stay-in-place bridge deck panels, full-depth deck panels, and all products covered in B1. B1 includes mild-steel-reinforced precast concrete elements, including some types of bridge beams or slabs, as well as products such as piling, sheet piling, pile caps, retaining-wall elements, parapet walls, and sound barriers.
C1 certification covers conventionally reinforced precast concrete elements, including piling, sheet piling, pile caps, retaining-wall elements, floor and roof slabs, joists, stairs, seating members, columns, beams, walls, spandrels, and similar products.
About Smith-Columbia – Smith-Columbia is the South Carolina division of the Smith-Midland Corporation, a publicly traded company (OTCQX: SMID). Smith-Midland develops, manufactures, and sells a broad array of precast concrete products for use primarily in the construction, transportation, and utilities industries. Smith-Midland Corporation has three manufacturing facilities located in Midland, Va., Reidsville, N.C., and Columbia, S.C. For more information, please call (540) 439-3266.