Smith-Midland wins AGC of DC award for Smithsonian National Zoo project
November 8, 2017 | Associate / Plant News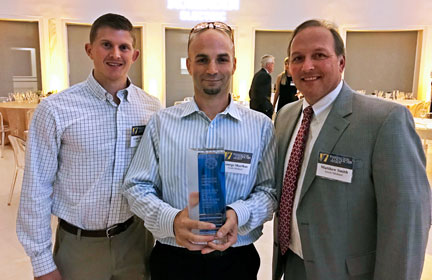 Smith-Midland Corporation (OTCQX: SMID) – The Associated General Contractors Association (AGC) has awarded Smith-Midland the 2017 Design-Build Subcontractor Award for its manufacturing of the Smithsonian's National Zoological Park Retaining Wall in Washington, DC. The 850 foot long x 30 foot high simulated stone retaining wall was built to replace existing structures along an extensive drop off on the entrance road above parking lot C. General Contractor Hensel Phelps worked with Smith-Midland to design the precast concrete panels, and to complete the welding and wall erection. Originally designed to be cast in place, Hensel Phelps rethought the process, proposing a value engineering option involving the use of a shotcrete wall and placement of precast concrete panels as a facing. This change allowed the main visitor access road above the wall to remain open throughout the process.
The precast panels were engineered like puzzle pieces, creating interlocking sections to disguise the horizontal joints between the panels, blending naturally with the stone block design. This ultimately led to a higher quality final product for the customer. The panels were formed and hand-stained to mimic the look and color variations of a natural stone wall, matching the stone walls located on the nearby Rock Creek Parkway. "This wall has all the color variations of a natural wall, with a permanent penetrating stain that will last indefinitely," says Smith-Midland's president, Ashley Smith. "We are proud of this project. It exemplifies Smith-Midland's ability to innovate. We worked out the logistics with the contracting team, and delivered a quality product for our customer."
This is the second award Smith-Midland has received for this project.
About Smith-Midland Corporation
Smith-Midland Corporation is a publicly traded company (OTCQX: SMID). Smith-Midland develops, manufactures, and sells a broad array of precast concrete products for use primarily in the construction, transportation, and utilities industries. Smith-Midland Corporation has three manufacturing facilities located in Midland, VA, Reidsville, NC, and Columbia, SC. Easi-Set Worldwide, a wholly-owned subsidiary of Smith-Midland Corporation, licenses the production and sale of Easi-Set precast products and provides diversification opportunities to the precast industry worldwide. For more information, please call (540) 439-3266 or visit www.smithmidland.com