Luxury Jersey Shore Redevelopment Project Selects SlenderWall
July 10, 2017 | Architectural Products
MIDLAND, Va. –
Smith-Midland Corporation (OTCQX: SMID) – Project announcement. In Long Branch, NJ two luxury towers containing 47 residences will rise side-by-side on approximately 1.7 acres of oceanfront property, South Beach at Long Branch. The 5-star multi-family development is the brainchild of Mimi & Edwin Feliciano, owners of development company FEM South Beach Urban Renewal. Exquisite details and rich features will grace the 8-story complex of unrivaled elegance and panoramic views. With 1st floor garden residences starting at $1.1 million all the way up to South Tower penthouse duplexes with 1,000 sf rooftop terraces, and a 3,300 sf. North Tower penthouse with a 3,300 foot terrace and glass enclosed climate controlled loggia, owners will savor the rewards of open air, sky and sea.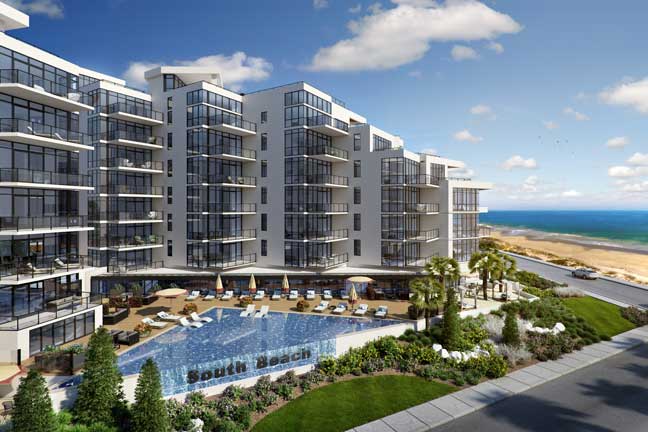 Shore Point Architecture not only designed the development to be elegant, they also encompassed the efficiencies and safety factors that modern design technologies allow. The project envelope will utilize SlenderWall precast concrete building panels supplied by the Smith-Midland Corporation. SlenderWall, an Easi-Set Worldwide licensed product, is a unique composite cladding system, 66% lighter than traditional 6" thick precast. This is achieved by integrating a galvanized interior steel stud frame with a 2" thick precast concrete panel. Even with this lighter weight, SlenderWall panels are able to withstand 226 mph winds. Each panel will have its stud wall cavity filled with 3.5" of factory-applied closed-cell foam insulation to achieve an R-24 thermal rating. SlenderWall will play a significant role in the energy efficiency of the project.
The contractor, Cornerstone Construction Services of Somerville, NJ engaged Smith-Midland's Virginia precast plant to manufacture the 451 gleaming white acid-etched SlenderWall panels (28,578 sf) and 88 panels (4,637 sf) of traditional architectural precast. Smith-Midland will provide turn-key service on the project, including panel erection and caulking services. Production of the panels is scheduled to begin in July 2017, with erection to be completed in May of 2018.
About Smith-Midland Corporation
Smith-Midland Corporation is a publicly traded company (OTCQX: SMID). Smith-Midland develops, manufactures, and sells a broad array of precast concrete products for use primarily in the construction, transportation, and utilities industries. Smith-Midland Corporation has three manufacturing facilities located in Midland, VA, Reidsville, NC, and Columbia, SC. Easi-Set Worldwide, a wholly-owned subsidiary of Smith-Midland Corporation (Del.), licenses the production and sale of Easi-Set products, including SlenderWall, and provides diversification opportunities to the precast industry worldwide. For more information, please call (540) 439-3266 or visit www.slenderwall.com.
Media Inquiries:
media@smithmidland.com
Sales Inquiries:
(540) 439-3266
Request for Quote