Smith-Midland continues SoftSound noise wall success in Virginia's Tidewater with two projects
September 9, 2016 | Associate / Plant News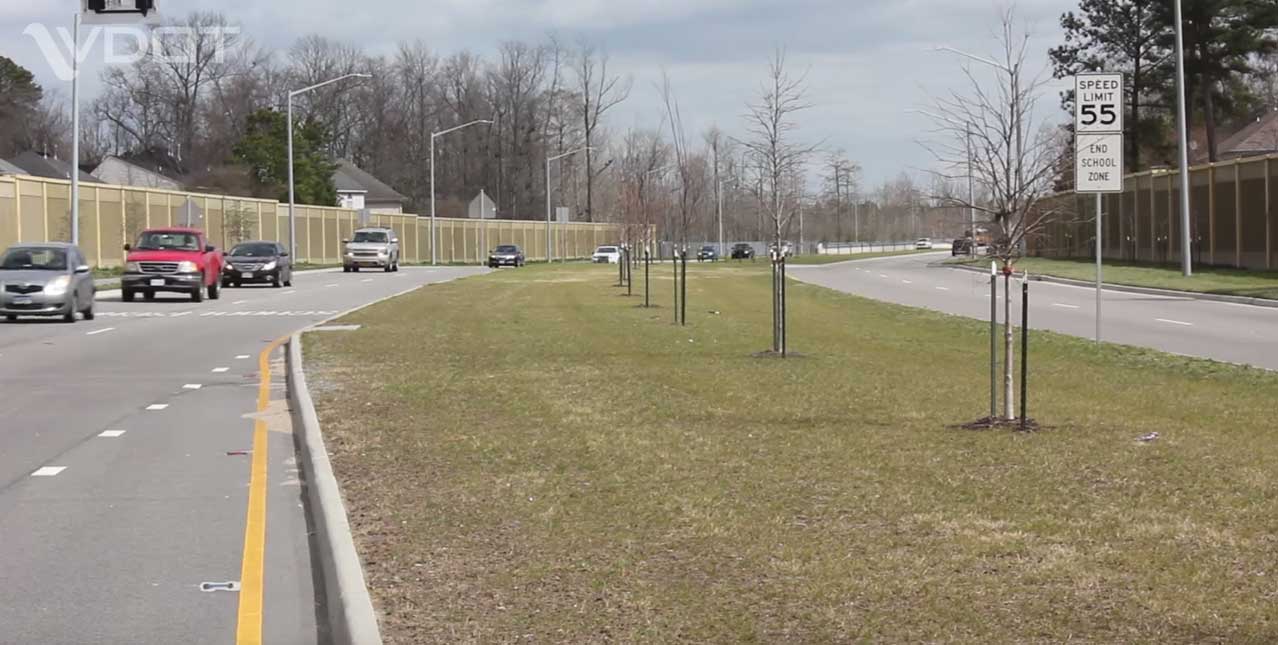 MIDLAND, Va., September 13, 2016 – Smith-Midland Corporation (OTCQX: SMID) announces the completion of one SoftSoundTM sound absorptive noise wall project in the Tidewater metro area of Virginia, the Martin Luther King Extension in Portsmouth, and the recent signing of another, Holland Road widening in Virginia Beach. These two projects come on the heels of two other recently completed noise wall sections in the region, Lynn Haven Parkway and Nimmo Parkway, both in Virginia Beach.
Smith-Midland was selected to supply SoftSound noise wall for the Skanska led Virginia Department of Transportation (VDOT) MLK Freeway Extension project. The mile-long project included close to 40,000 square feet of SoftSound noise wall panels and 1,926 liner feet of pre-stressed concrete posts. The sound absorptive panels used form liners to create the look of a natural stone wall. One of the advantages of SoftSound precast technology is its ability to be formed and stained to mimic a wide variety of surfaces while still maintaining its sound absorptive qualities and the durability aspects of concrete. Production of the precast panels and posts are complete and currently being installed.
Smith-Midland's portion of VDOT's $31 million, 2.5 mile Holland Road widening will consist of over 82,000 square feet of sound absorptive precast concrete panels and 5,528 liner feet of precast posts set on 441 6'x6' precast footers. The area along Holland Road contains primarily residential housing. The 12' high walls will be set on both sides of the corridor to protect the residents from excessive traffic noise. The design will continue that of the intersecting Nimmo Parkway which utilized special form liners depicting scenes of Virginia seashore and woodland landscapes. Smith-Midland was contracted by Allan Meyers-VA, Inc. to manufacturer and deliver the 358 tractor trailer loads of product. The project is scheduled to be completed in the fall of 2017.
SoftSound, an Easi-Set Worldwide licensed product, is a proprietary material molded and compressed to meet the desired technical and aesthetic requirements, providing superior sound absorptive technology. It combines a highly specialized mineralized aggregate with cement as a binder in a specific and exacting manufacturing process. Once installed, SoftSound surpasses other products for sound absorption, durability, strength, and moldability.
Smith-Midland Corporation (Del.) is a publicly traded company (OTCQX: SMID). Smith-Midland (Va.) develops, manufactures, and sells a broad array of precast concrete products for use primarily in the construction, transportation, and utilities industries. Smith-Midland Corporation (Del.) has three manufacturing facilities located in Midland, Va., Reidsville, N.C., and Hopkins, S.C. Easi-Set Worldwide, a wholly-owned subsidiary of Smith-Midland Corporation (Del.), licenses the production and sale of Easi-Set products and provides diversification opportunities to the precast industry worldwide. For more information, please call (540) 439-3266 or visit www.smithmidland.com or www.softsoundwall.com.
Media Inquiries:
media@smithmidland.com
Sales Inquiries:
(540) 439-3266
Request for Quote