NPCA Blog – Now You Hear It, Now You Don't
May 17, 2016 | Associate / Plant News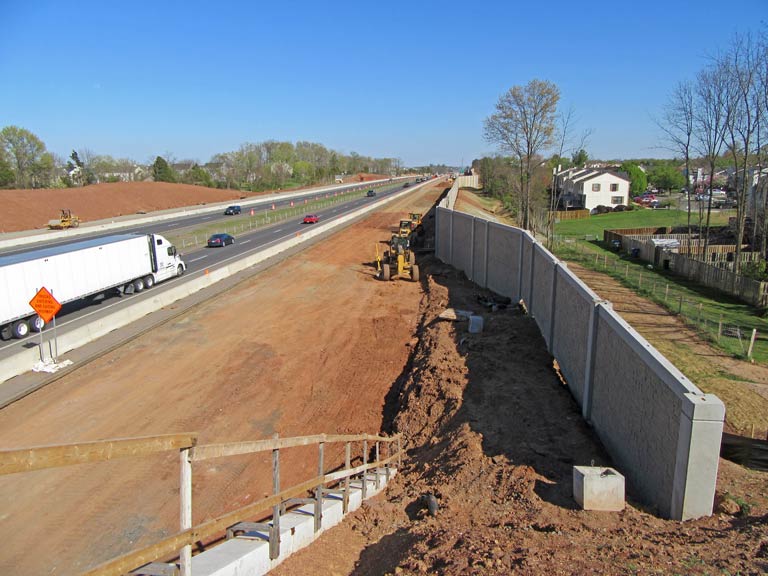 Precast concrete sound-absorptive walls in Virginia help preserve historic areas.
In part one of this post, we looked at the rise in use of precast concrete sound walls to mitigate road noises, and a recent application in Madison, Wis. As manufacturers and departments of transportation have become more sophisticated, so have sound wall designs. This includes the use of sound-absorptive walls that eliminate noise rather than bouncing it to another location. NPCA's Technical Services Department analyzed the differences in the Summer 2014 and Winter 2011 issues of Precast Solutions.
Additional applications of sound-absorptive precast walls are currently underway in Virginia along busy corridors that border historic and residential areas. The first project will feature 47,751 square feet (379 panels) of precast sound wall and retaining wall for the Route 29-Route 250 Interchange improvement project in Charlottesville, Va. Smith-Midland manufactured the precast concrete panels and retaining walls and will also provide 3,716 linear feet (104 posts) of prestressed posts for the project. Smith-Midland is working with Civil Wall Solutions and Shirley Contracting to complete the project.
The SoftSound™ wall, a proprietary system developed by Easi-Set Worldwide, features a dry stack stone formliner finish on the highway side and a stamped dry stack stone finish on the residential side to meet historic Charlottesville's aesthetic requirements.
To the north of Charlottesville, the company is providing another 240,000 square feet (1,035 panels) of precast sound wall and 13,644 linear feet (637 posts) of prestressed posts for the Interstate 66 widening project. Situated between Haymarket and Gainesville, Va., the project started in January and is scheduled for completion in May. The SoftSound™ sound-absorptive precast walls are finished with a simulated stone formliner. When complete, the wall will match the nearby historic Chapman's Mill.
"We're pleased to be involved with these sound wall projects in Virginia's historic areas, where our precast products and finishes not only fulfill functional needs, but also meet the aesthetic requirements of our state's highly-valued historic cities and towns," said Matthew Smith, Smith-Midland's vice president of sales and marketing.