42,000 SQUARE FEET OF SLENDERWALL® ARCHITECTURAL PANELS WILL BE USED ON MAJOR HUDSON RIVER REDEVELOPMENT PROJECT
January 6, 2016 | Architectural Products
NEW JERSEY'S LARGEST HOMEBUILDER IS USING SLENDERWALL® PANELS ON THE 14-STORY, 278-UNIT PORT IMPERIAL CONDO PROJECT
When K. Hovnanian Enterprises, Inc., breaks ground on the 278-unit Port Imperial on the Hudson River project this year, the major undertaking will include 42,000 square feet of SlenderWall® architectural precast concrete building panels. Part of the 2-mile-long Port Imperial redevelopment project in West New York, N.J., the 14-story condominium will be constructed by New Jersey's largest homebuilder, K. Hovnanian, the developer of more than 200 active communities nationwide.
The project will incorporate 466 SlenderWall panels. Project architect Marchetto Higgins Stieve specified the panels, which are being manufactured in Smith-Midland's Virginia precast plant. Cost effective, durable, and known for its long life span – with no maintenance or failure issues – SlenderWall comes in a wide variety of designs and finishes.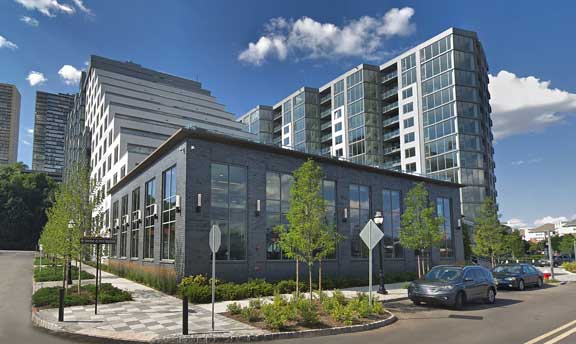 Recognized for its ability to reduce costs and requirements for elements within the production, delivery, and installation processes, SlenderWall is the industry's only wall system that incorporates the proven technologies of architectural precast concrete, high-tech PVA fiber and welded wire reinforcement, stainless steel fasteners, heavy gauge galvanized steel studs, and energy code compliant closed-cell foam insulation.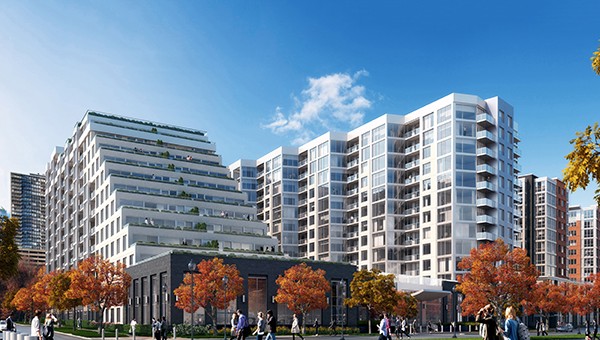 This design isolates the exterior precast cladding from the structural stresses associated with wind loading, steel frame movement, expansion and contraction, and seismic shock. The overall building structure will be constructed from cast-in-place concrete that is clad in the SlenderWall precast panels. The acid-washed panels will be made in a light gray color and include a spray-foam backing (factory-applied by Smith-Midland).
"We're pleased to be a part of this major Hudson River redevelopment project and look forward to providing value for a prestigious, national builder like K. Hovnanian Enterprises," said Chris Grogan, Business Development Manager, Smith-Midland, which is also providing an additional 6,600 square feet of traditional architectural precast panels for the project. "This is a great opportunity for us to show how SlenderWall can play a major part in the success of such an important project."
About Smith-Midland Corporation
Smith-Midland Corporation (Del.) is a publicly traded company (OTCQX: SMID). Smith-Midland (Va.) develops, manufactures, and sells a broad array of precast concrete products for use primarily in the construction, transportation, and utilities industries. Smith-Midland Corporation (Del.) has two manufacturing facilities located in Midland, Va., and Reidsville, N.C. Easi-Set Worldwide, a wholly-owned subsidiary of Smith-Midland Corporation (Del.), licenses the production and sale of Easi-Set products and provides diversification opportunities to the precast industry worldwide. For more information, please call (540) 439-3266 or visit HYPERLINK "http://www.smithmidland.com" www.smithmidland.com or www.slenderwall.com.
Media Inquiries:
media@smithmidland.com
Sales Inquiries:
(540) 439-3266