Smith-Midland hosts Clark Builders Group
July 27, 2015 | Associate / Plant News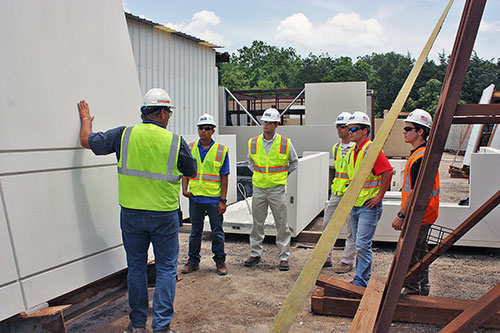 MIDLAND, Va. – On July 9th, a group of 11 summer interns and seasoned veterans from the Clark Builders Group Building Company (CBG) visited the Midland, Virginia precast concrete plant location of the Smith-Midland Corporation (SMC). They are part of CBG's ongoing educational program and represented both their Virginia and Maryland offices. The interns that participated are from VA Tech, VMI, and Towson University and are studying building construction, mechanical engineering, and project management.
CBG Building Company consistently ranks among the top five multi-family builders in the country, delivering award-winning communities from coast to coast for more than 25 years. Their experience spans a diverse portfolio of geographic areas and product types, including luxury, mixed-use, and affordable housing apartments, as well as campus housing, military family communities, and senior living facilities.
The visit began with a presentation on SMC's history and capabilities from its President, Ashley Smith, "We welcome the opportunity to share how Smith-Midland's focus on safety, quality, delivery and cost benefit our clients and how, by working together with builders and owners, we can improve the construction delivery process." Introductions were also made to the Smith-Midland team attending, including the lead salesperson in charge of CBG's account, Chris Grogan.
After a brief safety meeting, the group was broken into two teams led by Mark Loscudo, V.P. of Operations, and Chris Kemp, Director of Continuous Improvement. The attendees were treated to SMC's standard plant tour process where at each tour stop they are turned over to our associates to give their specific perspective on improvements in their individual areas. As a part of the standard plant tour process, participants are also asked what they like, what SMC could do to improve, and what they can take back and use in their companies. Chris Kemp said, "One person in my group mentioned that he had been in many QC labs and that our lab was one of the best."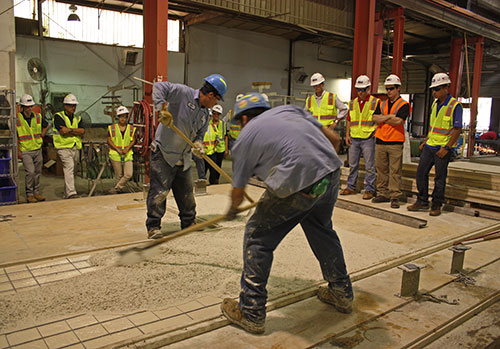 During the tour, the team from CBG was able to inspect multiple pieces from their 2 projects currently being produced at the plant. The "Latitude Apartments" is a 12-story, 265 unit, mixed-use, luxury apartment community located within the bustling Rosslyn-Ballston corridor. Smith-Midland is providing 712 panels of traditional architectural precast for the exterior cladding of the structure. Smith-Midland is also producing a total of 1,077 balcony and breezeway panels for "The Elms" projects, a series of 3 separate multi-family apartment communities.
"The plant tour was a big hit, everyone found the tour very informative," said Jeffrey McCoy, Senior Project Superintendent of CBG, "I would like to thank Smith-Midland for taking the time out of your busy schedules to accommodate our education program. Your hospitality and consideration is greatly appreciated."
Media Inquiries:
media@smithmidland.com
Sales Inquiries:
(540) 439-3266
Request for Quote