Cutting Costs for Chesapeake Bay
August 2, 2014 | Easi-Set Buildings
West Virginia district uses precast concrete buildings to save time & money on new facility construction. The West Virginia Department of Environmental Protection (WVDEP) implemented the Chesapeake Bay strategy to reduce the amounts of nitrogen, phosphorus and sediment in the regional watershed. The Franklin Public Services District (FPSD) of Mineral County, W.Va., engaged RK&K engineers to design a wastewater treatment facility to handle a load of 2.5 mgd.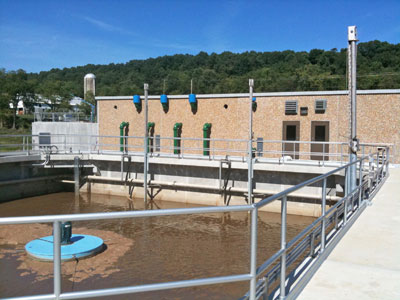 Phase One, completed in 2012, handled the initial flow of 600,000 gpd. West Virginia Governor Earl Ray Tomblin attended the 2012 dedication of this facility, which is recognized as the first in the state to be compliant with Chesapeake Bay regulations.
"This new plant will provide both immediate as well as future benefits to this area," Tomblin said.
In 2002, the private sector proposed an alternative under the Public Private Transportation Act to build four new high occupancy toll (HOT) lanes that would expand capacity and deliver new travel choices, including a network for buses and carpools. A partnership with the private sector and tolling would help VDOT deliver improvements more quickly and with fewer tax dollars, provide new travel choices, and reduce impacts on the surrounding neighborhoods.
Phase Two, finished in 2013, increased the processing capacity up to 1.2 mgd. Phase Three was completed in 2015, and now the facility can serve 2,600 current and future residential and business customers. The $55 million price tag is substantially less than the cost to bring the existing smaller systems up-to-date.
"It's expandable…it's ultra-modern," said Blane Murray of FPSD.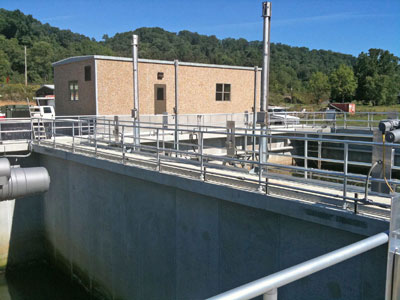 To speed completion of the project, Alverez Contracting used Easi-Set precast concrete buildings, manufactured by local Easi-Set licensed producer Smith-Midland Corp. The six main operations buildings ranged in size from a 10-ft-by-12-ft methanol building to a clear-span 24-ft-by-90-ft belt filter building. Each was brought in and assembled in just a matter of days, saving months of onsite labor and traffic. The cost of the pre-engineered Easi-Set precast buildings accounted for less than 2% of the project cost.
"The only way this could have taken place was through years of planning and forethought," said Scott Mandirola, director of water and waste management for WVDEP. "It shows cooperation of the county, state and local levels that is hard to match."
Media Inquiries:
media@smithmidland.com
Sales Inquiries:
(540) 439-3266