Meet a Precaster: Smith-Midland Corporation
June 1, 2013 | Associate / Plant News
MIDLAND, Va. –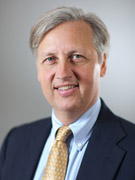 This month we are pleased to feature Smith-Midland Corporation as part of our Meet a Precaster blog series. Answers were provided by Ashley Smith, president of Smith-Midland Corporation.
Don't forget to check out all of our Meet a Precaster blog posts and if you're an NPCA producer member and would like to be featured in a future Meet a Precaster post, please send an email to NPCA's director of communication, Kirk Stelsel.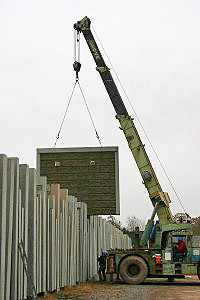 Q: Where are you located?
A: Midland, Va., which is 50 miles southwest of Washington, D.C. We also have a second manufacturing plant near Greensboro, N.C.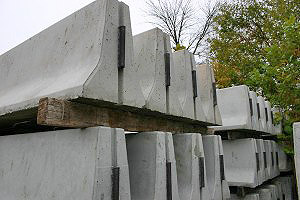 Q: How long have you been in business?
A: My grandfather, David Smith, and my father, Rodney Smith, started the company in 1960 on their family farm.
Q: How long have you been a member of NPCA?
A: We joined NPCA in 1971.
Q: Why did you join NPCA and what are the best benefits?
A: We joined the association initially to meet other producers that were having similar business challenges and successes. We also joined to exchange ideas about how to improve our businesses as well as grow and improve the precast concrete industry. The best benefits are the networking opportunities to share ideas that work or don't work to improve your business, working on product committees to do the work of the association and the friendships made over the years.
Q: What products do you produce?
A: We produce a wide variety of products: EASI-SET transportable buildings, J-J Hooks safety barriers, Softsound sound absorptive sound barriers, architectural precast concrete panels, Slenderwall building panels, utility vaults, retaining walls, beach prism shoreline protection systems, and custom architectural and structural precast products.
Q: Have you introduced any new products lately?
A: We recently introduced a MASH (Manual for Assessing Safety Hardware) crash tested barrier that can be used in a bolt-down configuration on a bridge deck and also in a pinned down configuration where there is a cut excavation behind the barrier along the roadway. This is the most cost-effective MASH crash tested safety barrier available on the market today. We partnered with the Hilti Company to develop and test a reusable bolt-down system for barriers when used in the bolt-down configuration on a bridge deck. This system is also the most cost-effective solution for bolting down barriers on a bridge deck.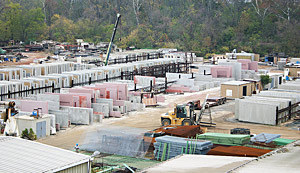 Q: What are the top attributes of precast concrete?
A: The top attributes of precast concrete are its ability to take almost any shape and its long life cycle.
Q: What has your company done to fight off the recession?
A: We have focused on increasing our productivity using lean methods, doubled our advertising budget, hired two new salespeople and continued to diversify our product line.
Q: What have you seen in your area as far as recovery?
A: The recovery is spotty. We still have too much vacant office space. Multifamily housing is strong and infrastructure investment is steady in our local market, but housing is just starting to rebound.
Q: What are your plans for the future?
A: Our future plans include continued focus on using lean methods, increasing our income by providing services associated with our precast products (i.e., offering site preparation for our EASI-Set buildings), continuing to introduce innovative products and services and working to improve processes in every area of our business.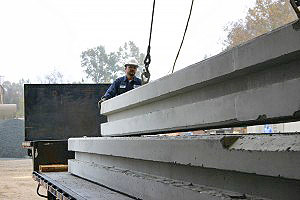 The opinions expressed in this blog post are solely those of the member and not of NPCA or any of its employees.
Media Inquiries:
media@smithmidland.com
Sales Inquiries:
(540) 439-3266
Request for Quote