First installation of J-J Hooks MASH TL3 bolt-down safety barrier using Easi-Set/Hilti proprietary anchoring system.
March 18, 2013 | Concrete Safety Systems News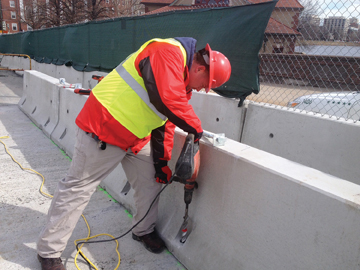 On March 18th, 2013, Shea Concrete Products of Wilmington, MA completed delivery of the new J-J Hooks MASH TL3 bolt-down barriers with Hilti anchoring system to the Larz Anderson Memorial Bridge project in Cambridge. The bridge, listed on both State and National Historic Registers, was built during the late 1800's and is a vital transportation link connecting the cities of Cambridge and Boston and is the primary connection between two Harvard University campuses.
The Massachusetts Department of Transportation (MassDOT) is undertaking the project to rehabilitate and restore the historic Anderson Memorial Bridge. In March 2012, they awarded the $19.98 million contract to Barletta Heavy Division, Inc. When the project is completed in 2014, the bridge will meet Federal Highway Administration (FHWA) standards to improve vehicular, pedestrian and bicycle access and meet Americans with Disabilities Act (ADA) and Massachusetts Architectural Access Board (MAAB) standards.
MassDOT is carrying out the rehabilitation project as part of the Commonwealth's $3 billion Accelerated Bridge Program, which is expediting the rehabilitation or replacement of bridges with serious deficiencies by 2016.
The MASH barriers represent an expansion of the successful J-J Hooks self-aligning connection system used in 'free-standing' installations for over two decades. "They are unique because they can be bolted to bridge decks or pinned to highways, meeting the new FHWA MASH TL3 requirements," said Greg Stratis, Shea Concrete Products Manager.
Shea Concrete has been providing barriers to the Massachusetts market for over 20 years. With the addition of the J-J Hooks MASH TL3, Shea Concrete has become one of only two certified manufacturers that can supply bolt-down barriers to MassDOT projects.
"I think (Shea Concrete's Certification) is a great thing for the industry," Matt Casey, Project Superintendent said, "Shea Concrete provides a great product. Project labor wise it installs three times quicker."
Easi-Set Worldwide designed and MASH-tested the Shea Concrete Products bolt-down barriers and partnered with Hilti to offer a proprietary anchor system that requires only two bolts per 12 foot section. This allows fast installation and easy removal of barriers without flame cutting bolts or damage to the bridge deck. Removal only requires taking the locked bolts out of an adhesive embedded Hilti threaded anchor and filling the small recessed void with a concrete grout. The J-J Hooks MASH TL3 barriers are configured and tested to allow for both bolt-down and pin-down applications with lengths of 10, 12, 20 and 30 feet.
"It was a pleasure working with Barletta Heavy Equipment on the Cambridge, MA jobsite and we look forward to delivering our J-J Hooks Bolt-Down/Pin-Down Barriers to other jobsites throughout New England," Stratis said.
J-J Hooks MASH TL3 bolt-down and pin-down barriers are now available for rental exclusively from Concrete Safety Systems. More information on J-J Hooks MASH TL3 can be found at www.jjhooks.com
Media Inquiries:
media@smithmidland.com
Sales Inquiries:
(540) 439-8966