Smith-Midland Included in Construction of NAIOP Award Winning Falls Church, Virginia Office Building
August 22, 2012 | Associate / Plant News
MIDLAND, Va. –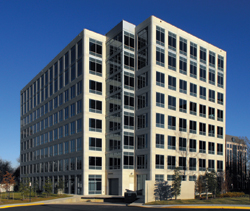 Smith-Midland Corporation, a manufacturer of architectural precast concrete panels, announces its involvement in the construction of 3120 Fairview Park Drive in Falls Church, Virginia which was awarded the 2008 National Association of Industrial and Office Properties (NAIOP) Award of Excellence for the Best Building (8-14 stories). NAIOP awards recognized significant new contributions to Northern Virginia by the commercial and industrial real estate community at an annual black-tie gala held on November 20 at the Ritz-Carlton Tysons Corner.
Smith-Midland was chosen to fabricate and install architectural precast concrete panels for the construction of the 8-story office building. The contract was worth $1.3 million. NAIOP Award for Falls Church, VA Office Building The 185,000 square-foot office building was clad with 27,840 square feet of architectural precast colored panels with a smooth acid washed finish and a medium sandblast finish. Smith- Midland Corporation began installation in March 2008 with completion 50 days later. The 8-story building is constructed of architectural precast concrete faced with green reflective glass and accented with a granite wainscoting. The south office building facade and main entrance elevation is constructed on a radius and features an aluminum curtainwall system with green tinted glass. Color matching aluminum metal panels and architectural precast concrete complete the elevation. The main building entrance is connected to the 3-story parking structure with an arcade and covered walkway.
Smith-Midland was honored to be a part of the construction team along with owner, Fairview Property Investments; architect, Noritake Associates; and general contractor, James G. Davis Construction Corp.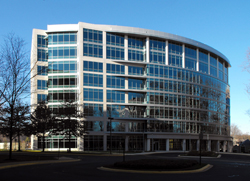 Architectural precast concrete panels were largely chosen because of the low-maintenance that precast concrete panels afford and to gain the cost savings by the shorter erection and construction time. The cost and time savings attained through the use of precast concrete panels gave the general contractor the ability to meet a very ambitious schedule. Architectural precast concrete panels also provide long-term durability. It provides a façade that is exceptionally resistant to impact, corrosion, weathering, abrasion, and other ravages of time, making it virtually maintenance-free and resulting in preservation of the building's original look. The durability of precast concrete eliminates the need for ongoing maintenance thereby saving the owner future monetary expenditure.
Smith-Midland Corporation is a publicly traded company (OTC BB: SMID, SMIWC; Boston Stock Exchange: SMM, SMM/W). Smith-Midland develops, manufactures and sells a broad array of precast concrete products for use primarily in the construction, transportation and utilities industries. Smith-Midland has two manufacturing facilities located in Midland, Virginia and Reidsville, North Carolina. Easi-Set Industries, a wholly owned subsidiary of Smith-Midland Corporation, licenses the production of Smith-Midland developed products around the world. For more information please call (540) 439-3266 or visit www.smithmidland.com.
Media Inquiries:
media@smithmidland.com
Sales Inquiries:
(540) 439-3266