Meeting Community Needs with an Innovative Building Solution
May 15, 2012 | Easi-Set Buildings
Communities have a large number of diverse building needs. Unfortunately, these municipalities also have limited budgets and truncated timelines. Towns, cities, and villages essentially need a large number of modular buildings that fit in a number of spaces, have the ability to be installed very quickly, can weather the elements, and serve a variety of functions – structures that are "plug and play," if you will. Also, cities need solutions that won't break their budget. Smith-Midland is the expert in precast concrete used in such buildings. Their production excellence is based on a thorough understanding of precast concrete technology backed by the skills, facilities, and experience necessary to produce quality precast products with a special emphasis on quality control at every stage of production. Name any town in America, and there's an extremely high chance that they are already using the types of buildings Smith-Midland provides or will need to put some up soon.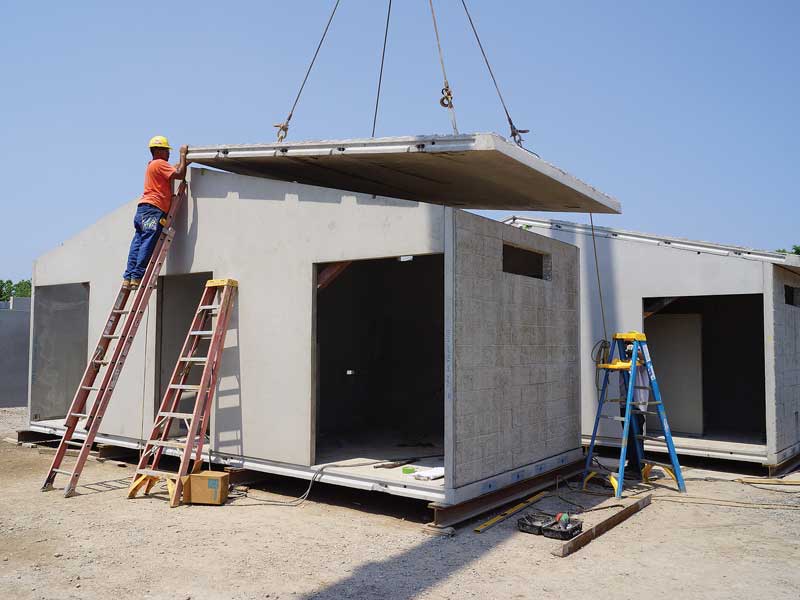 Many people are unaware of just how many diverse applications there are for precast concrete buildings in a community. Effective pre-cast concrete products must offer the flexibility to house a variety of important civic functions, yet remain be cost-effective, sturdy, and functional. For example: ABC town is rapidly growing, and an automaker has decided to build a plant within their city limits. They need to build up infrastructure quickly to accommodate the influx of over 50,000 people within the next three years. Public restrooms, communication stations, waste-water buildings, equipment shelters represent just one of the few types of buildings that will be needed. Smith-Midland produces precast concrete buildings that can meet all of these needs. Most buildings are assembled nearly 100% off site, can be installed extremely quickly, and many of them carry 100 year warranties on their roofs. This ensures that the Smith-Midland precast concrete buildings are the most conveniently handy solutions for a variety of applications.
Smith-Midland provides a wide variety of precast structures to accommodate many market applications—from parks and recreation, communications, power and energy, to military and transportation—to name just a few. For waste-water applications, Smith-Midland's Easi-Span buildings are ideally suited for use as pump-houses, pump stations, and wellhouses. They can be customized with waterproof roof hatches for future maintenance or repair of pumps and wells. Easi-Set Concrete Storage Buildings are the ideal choice for a variety of industries and can be used for control rooms, electrical enclosures, and generator housings. If there is an application, Smith-Midland can make an Easi-Set building work on the site. These are just a few of the many potential uses for Smith-Midland precast concrete buildings. For a full list of applications please visit http://smithmidland.com/concrete-buildings. Because of their cost effective designs, diverse potential for implementation, and easy installation, precast concrete buildings can be the silver bullet that solves a number of building needs.