Sierra Wall II – The forefront of highway sound wall technology
April 5, 2012 | Associate / Plant News
MIDLAND, Va. – In 1980, Smith-Midland Corporation pioneered the use of precast concrete highway sound walls in the United States. Sierra Wall, the first one-piece precast concrete column and panel system, quickly became the gold standard in the Mid-Atlantic region and beyond.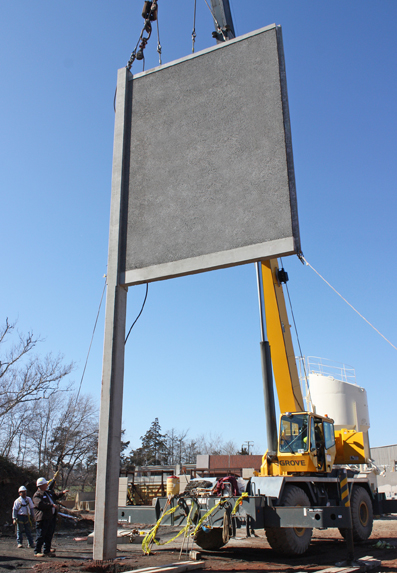 Now Smith-Midland and its licensing subsidiary Easi-Set Worldwide are proud to introduce the Sierra Wall II, which features a fully integrated, one-piece, pre-stressed extended column and sound panel. The inclusion of the foundation portion of the column, which extends up to 24 feet or more into the earth, sets Sierra Wall II apart from its competition. According to the American Association of State Highway and Transportation Officials guidelines, this patented design eliminates the need for costly heavy-steel reinforcing cages around the pre-stressed foundation portion of the column.
The combined strength of the integrated supporting/foundation column and panel delivers the highest quality and lowest cost highway sound wall ever offered. The one-piece design also eliminates thousands of linear feet of panel joints, adding significantly to its sound attenuating capacity versus competitive sound wall systems.
Sierra Wall II is available worldwide for licensing to qualified precasters. Smith-Midland and Easi-Set Worldwide fully expect Sierra Wall II to be as successful as its J-J Hooks highway safety barrier, a runaway success, with licensed manufacturers in 37 states and 8 countries. Like J-J Hooks Barrier, Sierra Wall II was engineered to be the industry's highest performance and lowest cost-to-manufacture sound wall product available on the market.
For licensing inquiries: Moffette Tharpe, Easi-Set, 1-800-547-4045, mtharpe@easiset.com For highway project inquiries: Matthew Smith, Smith-Midland, 1-540-439-3266, msmith@smithmidland.com
Media Inquiries:
media@smithmidland.com
Sales Inquiries:
(540) 439-3266