Smith-Midland Corporation receives NPCA award for Camp Lejeune project
February 1, 2012 | Associate / Plant News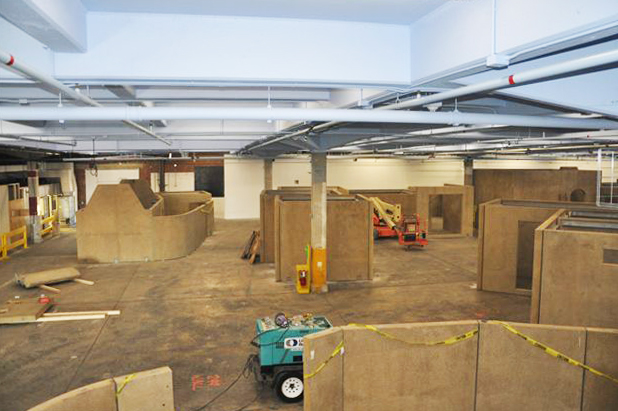 MIDLAND, Va. – Smith-Midland Corporation was awarded an honorable mention in the 2011 NPCA Creative Use of Precast competition for its' work on the Camp Lejeune Marine Base Mock Afghan Village.
Project: Military Infantry Immersion Training Village, Camp Lejeune, N.C.
Location: U.S. Marine Corps, Camp Lejeune, Jacksonville, North Carolina
Project Size: 326 panels totaling 20,840 square feet.
Description of Project: Fabrication of a simulation or mock Afghan village that consisted as 23 prefabricated buildings in various sizes including a mosque, sheik's home, school, police station, hardware store, cafe, merchant store, gas station, medical clinic, along with residential buildings and offices.
Design Considerations: Prefabricated roof slabs, a 10′ perimeter wall, an 8′ courtyard wall, a concrete staircase, an interior courtyard wall, a 9′ village wall, 12′ village wall, and 23 prefabricated buildings were erected in an existing warehouse building. The smallest building was the living area of the sheik's house (11'x11′), and the largest building, the mosque (approximately 23′ x 22′ — 2 stories tall).
Project Innovation: There were two distinct aspects of this project that were innovative. First, the mock village was installed inside of an existing warehouse that was built at Camp Lejeune in the 1940's. This required the precaster to use a special "low overhead" forklift with a custom built lifting beam during installation of the panels inside of the warehouse to allow the equipment to set the panels without interfering with the roof structure, electrical lines and other mechanical equipment hanging from the ceiling. The panels also had to be set at an angle onto a custom built trailer outside of the warehouse so that the panels could fit through an existing garage door that the owner did not want to modify.
Secondly, this project was innovative because the customer wanted to make the "mock village" as realistic as possible in order to give the Marines the most "real-life" training experience possible including aromas of roasting meat and cedar, dirt floors, roadside bombs and Avator video shown on the walls inside of a building depicting children inside of a classroom. The precast concrete building and courtyard walls add to the "real-life" training because they have the appearance of adobe "mud huts" that are found in regions throughout Afghanistan. The "mud hut" look was made possible by using an earth-toned pigment in the concrete and a custom formliner.
Extensive engineering coordination between the precaster and the customer was required to determine the proper reinforcing and hardware for the many panel-to-panel and panel-to-floor connections.
Project Cost Benefits: Compared to other forms of construction such as cinder block or wood, the precast option was less expensive because the cost of treating other forms of construction with an "adobe appearance" would have been very high. Precast was also less costly because the project was a wage scale project and the labor to install the precast panels was much less than the labor that would have been required for wood or cinder block construction.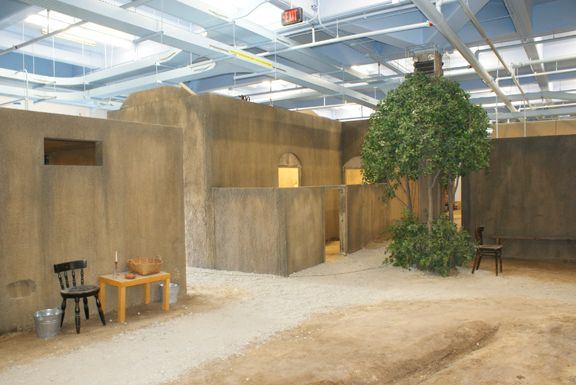 Project Schedule Savings: The precaster received the award on June 9, 2010 and had to be completed with its work on September 15, 2010. This extremely aggressive scheduled required the precaster to spend a lot of time and resources on engineering and drawing of shop tickets up front. Once production began, the precaster had to manufacture eight (8) panels per day to keep on schedule. The precaster erected 12 panels per day once on-site installation began.
Ease of Construction: The precast concrete walls were installed in approximately 26 days. The customer was very impressed by the speed of installation, quality of the product and safety awareness of the precaster.
About Smith-Midland Corporation (Del.)
Smith-Midland Corporation (Del.) is a publicly traded company (OTC BB: SMID, SMIWC; Boston Stock Exchange: SMM, SMM/W). Smith-Midland (Va.) develops, manufactures and sells a broad array of precast concrete products for use primarily in the construction, transportation and utilities industries. Smith-Midland Corporation (Del.) has two manufacturing facilities located in Midland, Va., and Reidsville, N.C. Easi-Set® Industries, a wholly-owned subsidiary of Smith-Midland Corporation (Del.), licenses the production and sale of Easi-Set products and provides diversification opportunities to the precast industry worldwide. For more information, please call (540) 439-3266 or visit www.smithmidland.com.
Media Inquiries:
media@smithmidland.com
Sales Inquiries:
(540) 439-3266