33,338 sq. ft. of Slenderwall installed in just 14 days!
April 14, 2011 | Architectural Products
MIDLAND, Va. – Ft. Belvoir, VA – The U.S. Army Legal Service Agency Administrative Offices project for the U.S. Army Corps of Engineers was designed to accommodate a 4-story administration building, as well as a 2-story adjacent Courtroom Building. The project incorporated 33,388 sq.ft. of the Slenderwall® Architectural Precast Wall System. The facility was designed to be a multi-story command headquarters building that includes upgraded interior finishes, and to achieve a minimum of LEED Silver Certification and hopefully LEED Gold Certification.
The building faced a rapid construction schedule less than 12 months from Notice of Award to actual occupancy of the building by the Army.
Given the programmatic requirements of the facility and the intent of having a 50-year minimum lifespan, a primary concrete structure was selected for the administration block while the smaller court wing was developed as a steel-framed structure with sprayed-on fire proofing.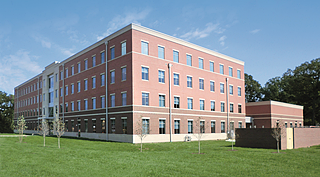 The building was developed to express the permanency of the court system and the high ideals to which the military legal system adheres. To that end, the building exterior incorporates simple massing with two simple volumes and flat roofs that provide a transition from the adjacent new hospital facility to the more traditional pitched roofs on the base. The court wing is distinct from that of the administrative portion emphasizing its unique function.
Slenderwall is lightweight architectural precast panel that provided both the exterior building cladding and the interior perimeter frame stud wall. The installed panel came complete with the Thin Set Brick finish, metal stud frame and closed cell foam insulation already in place, helping the general contractor integrate four separate trades into a single product. This point helped the General Contractor maintain the already accelerated construction schedule.
Slenderwall is designed to meet the Department of Homeland Security and the Department of Defense anti-terrorism force security blast criteria for the construction of all new government buildings.
Project Cost Benefits:
Speed at which the enclosure of both buildings occurred – 14 Days.
Slenderwall panel is mounted outboard of floor slab which yields bonus square footage on each floor.
Lightweight Panel System (30 lbs./sq.ft.).
The exterior face on the panel resist water penetration by using a "face-seal" method which incorporates an integral concrete admixture, thus completely sealing the exposed panel face.
Sprayed in closed cell foam insulation, (3 ½" = R21), applied to panels in a controlled environment at the SMC plant which eliminated the need for an insulation contractor on site.
Media Inquiries:
media@smithmidland.com
Sales Inquiries:
(540) 439-3266
Request for Quote