Smith-Midland to Build Soundwall Along Intercounty Connector in Montgomery County
January 28, 2010 | Associate / Plant News
$7.8 Million Contract is Largest in Company's 50-Year History
MIDLAND, Va. – Smith-Midland Corporation has been awarded a contract to construct a precast concrete soundwall along the new Intercounty Connector in Montgomery County, Md.
Worth more than $7.8 million, it is the largest contract in the company's 50-year history. The project includes 607,000 square feet of noise barrier panels that will stretch east of MD97 to just west of US29, between Rockville and Silver Spring. The project began in late 2009 and is expected to be completed in January 2011.
"The installation of a precast concrete soundwall along the Intercounty Connector will improve the quality of life for those living nearby, reducing the noise generated by traffic along a major thoroughfare," said Matthew Smith, Vice President of Sales and Marketing at Smith-Midland. "The soundwall combines the unmatched strength and durability of precast concrete with the aesthetic benefit of a variety of finishes resulting in effective sound reduction, security, attractiveness and versatility all at an economical price."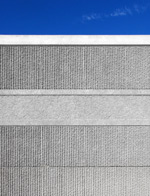 The project will feature SoftSound, the latest sound-absorptive technology for use in highway noise walls. SoftSound is a proprietary composition that is molded and compressed to suit the desired technical and aesthetic requirements of the customer. By combining special aggregates with cement as a binder in a specific and exacting process, SoftSound creates a material that surpasses any other combination of durability, acoustics, thermal, strength and moldability.
About Smith-Midland Corporation (Del.)
Smith-Midland Corporation (Del.) is a publicly traded company (OTC BB: SMID, SMIWC; Boston Stock Exchange: SMM, SMM/W). Smith-Midland (Va.) develops, manufactures and sells a broad array of precast concrete products for use primarily in the construction, transportation and utilities industries. Smith-Midland Corporation (Del.) has two manufacturing facilities located in Midland, Va., and Reidsville, N.C. Easi-Set Industries, a wholly-owned subsidiary of Smith-Midland Corporation (Del.), licenses the production and sale of Easi-Set products and provides diversification opportunities to the precast industry worldwide. For more information, please call (540) 439-3266 or visit www.smithmidland.com.
Media Inquiries:
media@smithmidland.com
Sales Inquiries:
(540) 439-3266