Smith-Midland Partners with Local College to Make Employees "Partners in Success"
May 5, 2009 | Associate / Plant News

MIDLAND, Va. – Smith-Midland Corporation is looking within its own community to help it become a better, bigger, stronger and more profitable company. As they implement a lean approach to the process of manufacturing precast concrete, they are looking to their employees to take the initiative to address and correct problems they encounter throughout the manufacturing process. To be successful in this new approach, Smith-Midland turned to the Lord Fairfax Community College customized training program to help empower their employees to become their "partners in success."
According to Chris Kemp, Director of Continuous Improvement for Smith-Midland, the company is undergoing what can best be described as a "lean" transformation. "The transformation will focus on the three main factors that production managers fear most: poor quality, increase in production costs, and an increase in lead time. It will be a shift from the traditional manufacturing system to a model that emulates the Toyota Production System."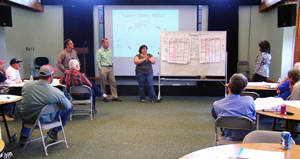 The system will place an emphasis on identifying process standards. This means that Smith-Midland will build their products the same way every time. Once the standards are established, then pressure through auditing or inspections will be applied to the system to expose waste within the process. Once the waste is identified, it will be assigned as a project for correction and elimination. A project simply becomes a problem with a scheduled resolution. Once the project is complete, it becomes a new standard and then the process starts all over again.
Smith-Midland anticipates the specialized training through Lord Fairfax Community College (LFCC) will make employees a tremendous asset to the new production system. Lord Fairfax Community College's Office of Workforce Solutions and Continuous Education is providing Smith-Midland employees with customized training to help improve their problem-solving skills. According to Larry Baker, Coordinator of Business and Industry Training, Workforce Solutions & Continuing Education, as Smith-Midland begins its transformation, it is important that the new principles are embraced and practiced every day. "This particular problem-solving class will help managers lead their employees to solve the problems they face in an effort to improve quality and increase productivity. The benefit of LFCC's professional development classes is that students can immediately apply what they learn to their job. The ideas generated from this training class will have a direct impact on employee work performance."
Smith-Midland Corporation is a publicly traded company (OTC BB: SMID, SMIWC; Boston Stock Exchange: SMM, SMM/W). Smith-Midland develops, manufactures and sells a broad array of precast concrete products for use primarily in the construction, transportation and utilities industries. Smith-Midland has two manufacturing facilities located in Midland, Virginia and Reidsville, North Carolina. For more information, please call (540) 439-3266 or visit www.smithmidland.com.
Media Inquiries:
media@smithmidland.com
Sales Inquiries:
(540) 439-3266