Smith-Midland Employees Participate in Red Cross Blood Drive
April 23, 2009 | Associate / Plant News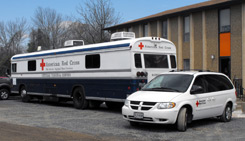 MIDLAND, Va. – Nearly thirty employees of Smith-Midland Corporation participated in a blood drive yesterday when the Red Cross Blood bus visited their company headquarters in Midland.
According to Ashley Smith, President and COO of Smith-Midland, "Smith-Midland wants to support the community and is always looking for new opportunities to help. March was Red Cross Month so it seemed like the perfect time to have the Red Cross Blood bus make a stop at our headquarters. The senior staff welcomed the opportunity and employees were more than happy to participate." The company provided employees participating in the blood drive with refreshments including bagels for breakfast and afternoon snacks.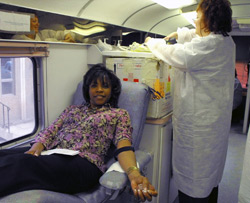 Smith-Midland Corporation is a publicly traded company (OTC BB: SMID, SMIWC; Boston Stock Exchange: SMM, SMM/W). Smith-Midland develops, manufactures and sells a broad array of precast concrete products for use primarily in the construction, transportation and utilities industries. Smith-Midland has two manufacturing facilities located in Midland, Virginia and Reidsville, North Carolina. For more information, please call (540) 439-3266 or visit www.smithmidland.com.
Media Inquiries:
media@smithmidland.com
Sales Inquiries:
(540) 439-3266