SlenderWall Involved in Construction of NAIOP Award Winning Dulles Station
May 12, 2008 | Architectural Products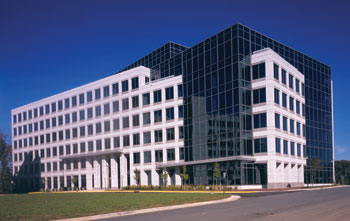 MIDLAND, Va. – Smith-Midland Corporation Announces its involvement in the construction of the NAIOP Award Winning Dulles Station Office Building in Herndon,Virginia. Phase I of the Dulles Station Office Building West was recently awarded the National Association of Industrial and Office Properties (NAIOP) 2007 Award of Excellence in the Best Building Category for Mid-Rise (4 – 7 stories). NAIOP awards recognize significant new contributions to Northern Virginia by the commercial and industrial real estate community at a black-tie gala held in November 2007.
The Dulles Station Office Building project includes 41,480 square feet of traditional architectural precast panels. Finished in spring of 2007, the contract's valued at $1,095,000.
The Dulles Station suburban office building rests on a high profile location on the Dulles Toll Road. The six-story building features a combination sandblast finish and dark panel featuring two different concrete mixes in each panel. Along the two different finishes, the main portion of the panel (the white portion) has the medium sandblast finish and the dark gray accents add an exposed aggregate finish to expose the dark gray stone.
Smith-Midland was honored to be a part of the construction team that also included owner/developers, Trammel Crow and Washington Real Estate Investment Trust; architect, Cooper Carey, and general construction, H.H. Constructors.
Smith-Midland Corporation is a publicly traded company (OTC BB: SMID, SMIWC; Boston Stock Exchange: SMM, SMM/W). Smith-Midland develops, manufactures and sells a broad array of precast concrete products for use primarily in the construction, transportation and utilities Industries. Smith-Midlandhas two manufacturing facilities located in Midland, Virginia and Reidsville, North Carolina. Easi-Set Industries, a wholly owned subsidiary of Smith-Midland Corporation, licenses the production of Smith-Midland developed products around the world. For more information please call (540) 439-3266 or visit www.smithmidland.com or www.SlenderWall.com.
Media Inquiries:
media@smithmidland.com
Sales Inquiries:
(540) 439-3266
Request for Quote