Smith-Midland Corporation Welcomes Kevin Corbett as the VP of Operations
May 7, 2021 | Associate / Plant News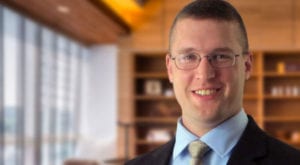 A native of Syracuse, New York, Kevin Corbett is the newest member of the Smith-Midland Corporation leadership team. A veteran of the United States Marine Corps, Kevin has a master's degree in business administration and a bachelor's degree in history.
After graduating in 2009, Kevin took a commission in the USMC, where he served as an Infantry Captain, assigned to 1st Battalion 3rd Marine Regiment in Kaneohe Bay, Hawaii, and then the Marine Corps Security Force Regiment at the Naval Weapons Station in Yorktown, VA.
In 2015, Kevin joined Oldcastle Building Envelope, the largest glass curtain wall fabricator in North America, serving as plant manager in their Tampa, Florida and Westbrook, Maine facilities. While at Oldcastle, he studied and implemented Lean manufacturing, a continuous improvement methodology that aligns perfectly with the Smith-Midland philosophy.
This is a passionate group of leaders at Smith-Midland," said Kevin. "From Ashley Smith himself, all the way down, everyone is very engaged and passionate about making the organization as good as it can possibly be, which includes the Lean implementation, but also with regard to the creation of revenue streams and finding ways to increase profitability without increasing operating costs."
As Vice-President of Operations at the Virginia plant, Kevin takes responsibility for the production, delivery, and installation of the company's full line of products and services.
"His experience leading large manufacturing operations and leading continuous improvement programs that improved the safety, quality, on-time delivery, and costs at those operations will help Kevin as he leads our organization further along our path of Continuous Improvement through Lean manufacturing," stated Ashley B. Smith, Smith-Midland Chief Executive Officer.